Buying Guide: The best drones in all price ranges!
The range of drones is constantly increasing. We show you what to look out for when buying a new drone and present you with what we consider to be the current best drones in different categories and price ranges.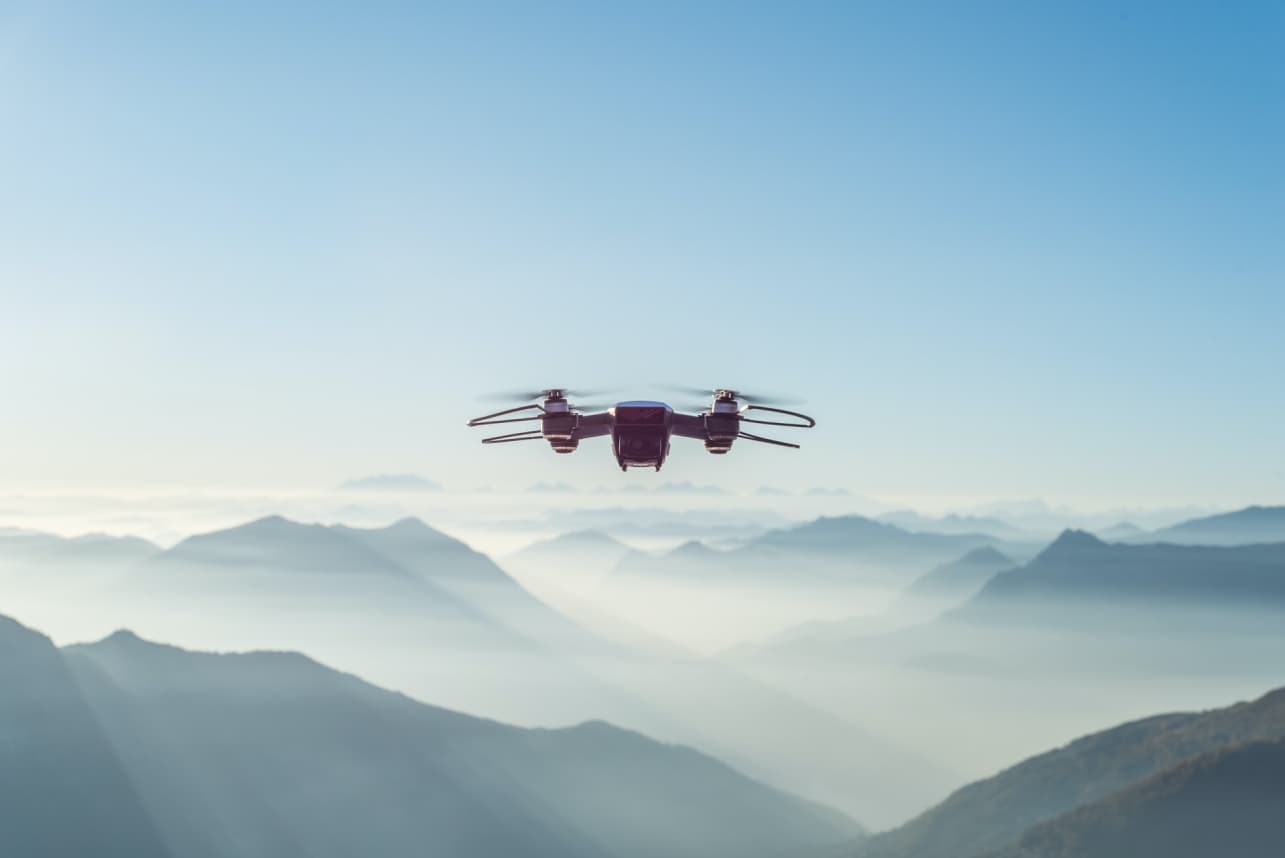 Find the best drone: You should generally pay attention to these 9 buying criteria:
If you already have an exact idea of your budget or know that you are after a specific type of drone, you may also visit one of our following pages:
Drones under $100
Drones under $200
Drones under $500
The best drones
Buying criteria
If you want to buy a drone, you should pay particular attention to the features mentioned below. We explain briefly what the individual purchase criteria are all about and for whom they are particularly important.
Camera
Drone cameras typically have video resolutions of 720p, 1080p, 2.7K or 4K. Some top drones can even record in 6K or 8K. Basically, the higher the resolution, the better the resulting videos.
In addition to resolution, however, sensor size also plays an important role, especially when it comes to low-light performance. Many inexpensive drones only have a very small sensor (e.g. 1/2.8″). Mid-range drones such as the DJI Mavic Air often have a 1/2.3″ sensor installed, and top-of-the-line models such as the DJI Mavic 2 Pro have a 1″ sensor.
You should also always pay attention to the available frame rate (fps). At least 24 fps should be available for smooth recordings. If you buy a very cheap 4K drone, sometimes it will only have 20 fps or less, which will have a negative impact on the quality of the videos.
There are also big differences between cheap and expensive drones when it comes to photo resolution. While beginner models with HD or Full HD camera can often only take pictures in 1 or 2 megapixels (MP), mid-range and high-end drones achieve values of up to 12 to 40 MP.
To sum up, if you simply want to gain your first experience with a camera drone, you can confidently buy an inexpensive drone. If, on the other hand, you want to take high-resolution photos and movies right from the start, you should go for a more expensive model right away.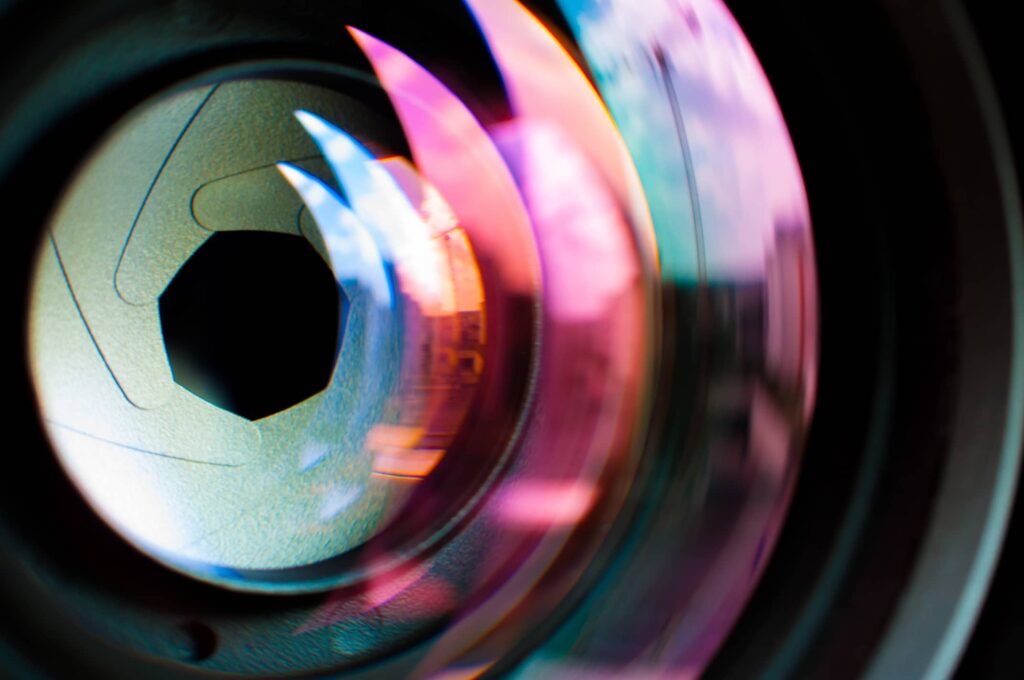 Gimbal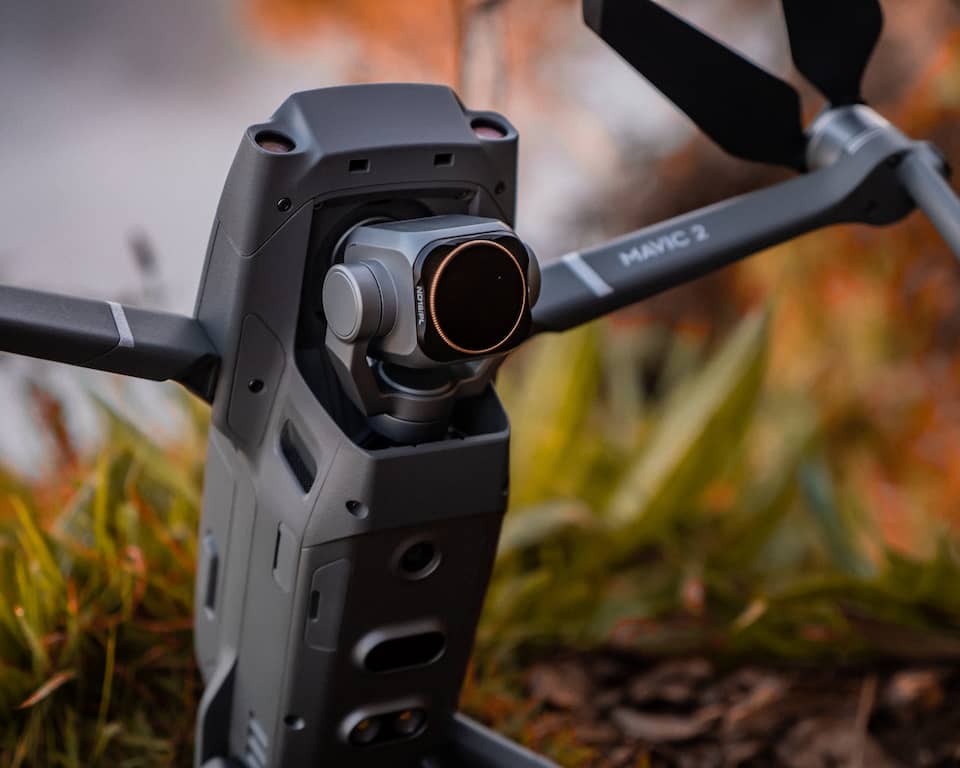 A gimbal is a camera mount that separates the drone's own movements from the camera to stabilize the image. A distinction is made between 1-axis, 2-axis and 3-axis gimbals, depending on the number of stabilized axes. Only drones with 3-axis gimbals can produce truly shake-free images.
Meanwhile, some models are also available with 2-axis gimbals that are electronically stabilized in the third axis. These drones also achieve good results, but do not quite come close to purely mechanical 3-axis gimbals.
Again, for initial experience, a drone without a gimbal is sufficient. For high-quality video recording, however, a gimbal is mandatory.
GPS
If you buy a drone with GPS, it will be able to independently maintain its position in the sky and will not be blown away by light winds. GPS drones also allow for intelligent flight modes like Follow Me or Active Track, Waypoint Navigation and many more.
Even the automatic return to the starting position (Return-to-Home) is only possible with GPS.
Flight time
Drones usually have flight times of about 5 to 30 minutes. We recommend buying a drone that can stay in the air for at least 15 minutes or comes with two batteries at once. Generally, it is advisable to purchase a second battery to extend the flight time.
Range
Since drones may only be flown within visual range, an extremely high range does not seem particularly important at first glance. However, a high theoretical range also always leads to a generally stronger and more stable signal. Since obstacles such as houses or trees negatively affect the connection quality, drones with high maximum ranges have advantages here and signal interruptions or image disturbances are much less likely to occur.
FPV
Almost all drones with a camera can stream the live image of the drone to your smartphone in real time. This first-person view (FPV) from the drone's point of view helps immensely when filming and taking photos.
So, if you want to buy a drone to take photos and videos with it, you should definitely buy a model with FPV feature.
Safety features
Most GPS drones can return to the launch position at the push of a button thanks to Return-to-Home (RTH). Many model also return independently should the battery fall below a critical level or even if the signal between the drone and the remote control breaks down. This is extremely convenient and prevents you from accidentally losing your copter.
Other possible safety features include an emergency stop button, obstacle sensors, and protective guards around the propellers. The latter should be present especially on drones for kids, as they protect from the fast-spinning propellers.
Flight modes
If you buy a drone with GPS, it will usually also have different flight modes. The most common function here is certainly tracking people or objects (called Follow Me or Active Track).
Other common recording modes are for flying around objects (Orbit Me or Circle Me) and following waypoints.
Many entry-level drones also have a headless mode. In this mode, simplified control is available to you and it doesn't matter how the drone is currently oriented in the sky when changing directions.
Weight and size
The size and especially the weight of the drone are important for two reasons. First of all, smaller and lighter models are of course more space-saving to transport and can therefore also be conveniently taken on vacation.
Furthermore, however, the weight also plays a decisive role when it comes to the legal requirements for flight. More about this at the end of this page in the chapter Regulations & Laws.
Drones for beginners & kids
Drones for beginners are characterized primarily by a low price. In addition, they should be as robust as possible and easy to control. Drones for beginners can be divided into drones with a camera and drones that are intended exclusively for flying. Drones for children should also be equipped with a propeller guard.
Best beginner drones without camera
The beginner drones without camera listed here are mini drones with propeller guards. Beginner drones with camera can be found in the following.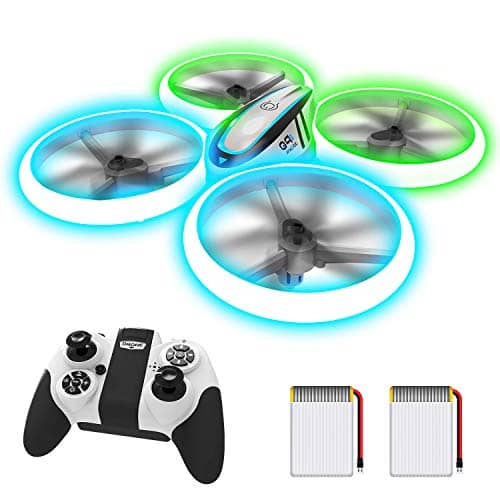 Holy Stone HS450
The Holy Stone HS450 has protective cages around all four rotors and is the only mini-drone to have infrared sensors for obstacle detection, which are usually only found on high-end drones. Another highlight: when you buy the HS450 drone, you get not one, not two, but three batteries.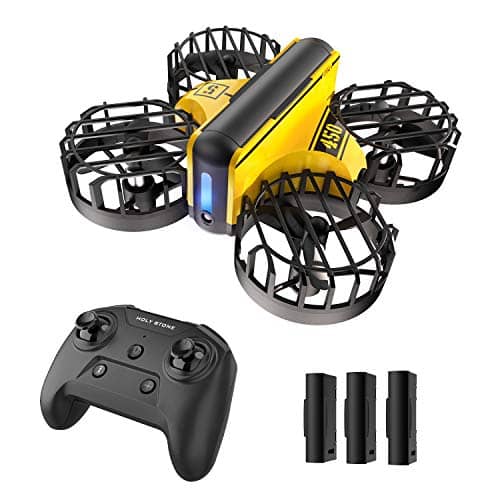 EACHINE E016H
The EACHINE E016H is an affordable indoor drone with a great fun factor. Suitable for beginners and even kids, it impresses with 165 feet (50 meters) range, automatic altitude hold and several safety features. It comes with two batteries for a total of up to 16 minutes of flight time.
Potensic A20
The Potensic A20 also has two batteries for about 6 minutes of flight time. Its propellers are also enclosed by plastic protection, making the drone extremely durable. It has three speed settings, an emergency stop button and also a headless mode.
SANROCK U46
The SANROCK U46 is also best suited for beginners and children. Propeller protection, headless mode and stable housing promise long-lasting flying fun. One battery charge lasts for about 10 minutes. The mini drone can be flown within a radius of about 50 feet (15 meters).
Snaptain SP300
When you buy the Snaptain SP300 drone, you get three different remote controls at once. A hand sensor with only one button and a wristband with gyro sensor are unique control modules that you won't find on any other drone. Blue LEDs are embedded in the rotor guards, which illuminate the mini drone brightly, especially in the dark. Another highlight is the infrared sensors for obstacle detection and collision avoidance.
Holy Stone HS170
The Holy Stone HS170 offers 6 to 8 minutes of flight time within a range of up to 165 feet (50 meters). It also has prop guards to protect bystanders. Furthermore, it performs 360° loops at the push of a button and can be flown at three different speeds.
Best beginner drones with camera
The following drones for beginners and children also all have propeller protection and a camera and can stream the live image (FPV) to your own smartphone. They are ideal for gaining initial flying and filming experience.
Holy Stone HS120D
The Holy Stone HS120D is a GPS drone with a tiltable full HD camera. It offers live FPV image transmission, has a range of about 1300 feet (400 meters) and stays in the air for about 16 minutes. Return-to-home, three speeds and a beginner mode with limited range make the HS120D a great drone for beginners.
Dragon Touch DF01G
The Dragon Touch DF01G comes with two batteries of about 15 minutes of flight time each. It can be flown at a distance of up to 395 feet (120 meters). It also has GPS, a return-to-home function and can of course also transmit the FPV live image in real time. The Full HD camera takes good pictures and the intelligent flight modes give a first impression of what is possible with camera drones.
Potensic T25
When you buy the Potensic T25 drone, you get an affordable beginner drone with 2K camera and GPS plus GLONASS that is easy to fly. 1000 feet (300 meters) of range, a flight time of about 8 minutes and a headless mode are just some of the great features of this beginner quadcopter.
EACHINE E511S
The EACHINE E511S is available in three different variants. Either with 720p or with 1080p camera and as 2.4 GHz or 5 GHz version. It has a GPS module, about 12 minutes of battery life, return-to-home and an adjustable camera. Some flight modes (Follow Me, Orbit Me, Waypoints) are also available.
SNAPTAIN SP650
The SNAPTAIN SP650 also allows 12 minutes of flight time, but comes with two batteries at once. It can be flown at three different speeds, has a return-to-home mode and a full HD tiltable camera. Other highlights include flip and rotate functions, as well as voice and gesture control.
Teeggi VISUO XS816
The Teeggi VISUO XS816 offers a long flight time of up to 20 minutes and can be controlled at distances of up to 328 feet (100 meters). It has a 4K camera that captures photos in 4096 x 3072 pixels and videos in 2048 x 1080 pixels. Other features include a headless mode, return-to-home, and an optical flow sensor (ground camera).
Ryze DJI Tello
The Ryze DJI Tello offers 13 minutes of flight time at distances of up to 328 feet (100 meters). It too has an Optical Flow Sensor and features automatic flight modes. The camera takes photos in 5 MP and electronically stabilized videos in 720p. A highlight is the ability to program your own flight maneuvers.
DEERC D50
The DEERC D50 quadcopter comes with a tiltable 2K camera and two batteries at once. The range is about 328 feet (100 meters), the flight time per battery about 12 minutes. A headless mode and four different speeds are also available.
Tomzon D25
When you buy the Tomzon D25 drone, you also get two batteries and even a 4K camera that records both photos and videos in 4096 x 2160 pixels. The copter can be flown within a radius of up to 328 feet (100 meters). Approximately 12 minutes of flight time are possible per battery.
Price-performance tips
In this section, we have compiled camera drones with upscale features for you. All listed multicopters have good cameras with FPV transmission, all have a GPS module and have a good range and flight duration. If you want to buy a drone that is at the same time inexpensive, but should still deliver great shots already, the following quadcopters are just right for you!
DJI Mavic Pro
The DJI Mavic Pro is a bit older now, but it is still one of the best drones you can currently buy. A flight time of 25 minutes, a 3-axis stabilized 4K camera as well as 40 mph (65 km/h) and up to 4.35 miles (7000 meters) range paired with an anti-collision system speak for themselves.
DJI Mavic Air
The DJI Mavic Air not only impresses with its classy design. Up to 21 minutes of flight, almost 43 mph (69 km/h) and 2.5 miles (4000 meters) of range with just 450 grams is a real announcement. If you want to buy a drone that offers the highest quality in the smallest space, the DJI Mavic Air with 4K camera and 3-axis gimbal is exactly the right choice.
DJI Mavic Mini
The DJI Mavic Mini is an ultra-compact mini drone that weighs just 249 grams. Despite this, the Mavic Mini gets up to 30 minutes of flight time and reaches up to 29 mph (47 km/h). The 2.7K videos are 3-axis stabilized, making this drone an ideal travel companion.
Hubsan Zino 2
The Hubsan Zino 2 offers incredible features at a very fair price. 4K camera with 60 fps and 3-axis gimbal, 5 miles (8 kilometers) range and maximum 33 minutes flight time are some of the highlights. Photos can be recorded in 12 MP. The bit rate is a full 100 Mbit/s.
Xiaomi FIMI A3
The Xiaomi FIMI A3 impresses with a mechanical 3-axis gimbal in combination with a full HD camera. With up to 40 mph (65 km/h) you fly around in ranges of 0.6 miles (1000 meters) up to 25 minutes. The intelligent flight and recording modes of the FIMI A3 also know how to convince.
Eachine EX4 Pro
With the Eachine EX4 Pro drone, you buy an extremely affordable model with an extensive range of features. Although the camera only takes photos in 4K (videos in Full HD), but a mechanical 3-axis gimbal is installed. The drone offers 25 minutes of flight at a distance of up to 1.9 miles (3000 meters) and comes with great carrying case.
Holy Stone HS720E
The Holy Stone HS720E features a 4K camera with a 2-axis mechanical gimbal, which is electronically stabilized in the third axis. The affordable GPS drone comes with two batteries at once and has about 23 minutes of flight time per battery. The range is about 0.6 miles (1000 meters).
Hubsan Zino Pro
The Hubsan Zino Pro comes with 4K camera and mechanical 3-axis gimbal. A range of up to 2.5 miles (4000 meters), 20 mph (32.4 km/h) top speed, and up to 23 minutes of flight time make the Hubsan Zino Pro an attractive choice if you want to buy a drone that is not too expensive, yet has excellent features.
GoolRC SG906 PRO
The GoolRC SG906 PRO is extremely affordable, considering its extensive features. It shoots 2-axis stabilized 2K videos and has a battery life of about 20 minutes. The range is about 0.75 miles (1200 meters).
Best Drones
The following high-end drones feature top-notch cameras with at least 4K, mechanical 3-axis gimbals, and extensive features. If you want to buy a drone that has the best features for high-quality photography and filming, look no further than the following multicopters.
DJI Mavic 2
The DJI Mavic 2 is available in two versions. Once as DJI Mavic 2 Pro with Hasselblad camera and once as DJI Mavic 2 Zoom. Both models record in 4K and, in combination with the 3-axis gimbal, deliver what are currently some of the most beautiful photos and videos in the hobby.
An anti-collision system, a top speed of 45 mph (72 km/h) and up to 31 minutes of flight time with a range of 5 miles (8000 meters) make the DJI Mavic 2, weighing just under 900 grams, currently one of the best drones in 2021.
Autel EVO 2
The Autel EVO 2 is a high-end drone available in three different versions. As EVO II with 8K camera and 48 MP, as EVO II Pro with 6K camera and 1″ sensor or as EVO II Duo with 8K camera and an additional 640 x 512 pixel thermal imaging camera. Up to 40 minutes of flight time and a range of up to 5.6 miles (9 km) speak for themselves. Another highlight is the 360° obstacle detection, which includes 12 sensors on all sides.
Yuneec Typhoon H Plus
The Yuneec Typhoon H Plus Hexacopter has a 360°-pivoting 4K camera with 3-axis gimbal and therefore offers unrestricted freedom for camera shots at lofty heights. 25 minutes of flight time, up to 45 mph (72 km/h) and a maximum range of 1 mile (1.6 kilometers) – the 1.8 kg Typhoon H Plus from Yuneec is a real high-tech drone for film enthusiasts and comes with high-quality remote control with 7″ display.
DJI Mavic Air 2
The DJI Mavic Air 2 with 4K camera and OcuSync 2.0 can be controlled for 34 minutes at distances of up to 6.2 miles (10 km). It can record 4K video at 60 fps and handles full HD at 240 fps. It is also extremely fast at up to 40 mph (64.8 km/h). Other highlights include hyperlapse and slow motion function, as well as sophisticated obstacle detection.
DJI FPV drone
When you buy the DJI FPV drone, you get the first racing drone from DJI. The FPV drone, which can go up to 87 mph (140 km/h), can be controlled in three different modes and comes as a combo with FPV goggles. It features a 4K camera and has a range of up to 6.2 miles (10 km) thanks to OcuSync 3.0. The FPV Racer combines agility and speed with beginner-friendliness, an excellent camera and the usual DJI quality.
DJI Phantom 4 (Pro)
The DJI Phantom 4 (Pro) impresses with 1″-large CMOS sensor, 3.1 miles (5000 meters) range, anti-collision system and 4K videos at 60 fps. Weighing 1380 grams, the Phantom 4 (Pro) is 45 mph (72 km/h) fast and stays in the air for up to 28 minutes.
Parrot Anafi
The Parrot Anafi from the French drone manufacturer scores with its 180° vertically swiveling gimbal, but unfortunately it is only mechanically stabilized in 2 axes. Nevertheless, the 4K video recordings of the 320-gram Anafi are convincing and offer unique perspectives thanks to the gimbal.
Up to 25 minutes of flight time, a range of 1.25 miles (2000 meters) and 34 mph (55 km/h) top speed are also impressive.
DJI Mini 2
The DJI Mini 2 is the ultra-compact successor to the DJI Mavic Mini. The improved range of up to 6.2 miles (10 km) and 4K video at 30 fps make the Mini 2 a top choice for ambitious hobbyists looking for a compact drone to take on the go. Flight time is about 31 minutes and photos can even be taken in RAW format.
Xiaomi FIMI X8 SE
The Xiaomi FIMI X8 SE is a real value for money pick. It is significantly cheaper than most DJI drones, but also features a 4K camera with 3-axis gimbal. Together with a flight time of 33 minutes, a range of 3.1 miles (5000 meters) and a top speed of almost 40 mph (65 km/h), the 790-gram folding drone is currently a real buy recommendation.
Professional flying platforms
For applications in agriculture, commerce and industry, reliability and the highest material quality are particularly important. Professional drones are available either already designed or as modular flight platforms that can be individually equipped with cameras and other sensor technology.
DJI Inspire 2
The DJI Inspire 2 can record 6K videos with its 360° gimbal and save them in CinemaDNG/RAW. Those working with Apple ProRes can fall back to 5.2K. The Inspire 2 accelerates from 0 to 50 mph (80 km/h) in just 5 seconds, peaks at up to 58.4 mph (94 km/h), and stays aloft for up to 27 minutes. Even flights in low temperatures are no problem thanks to self-heating batteries.
Autel EVO 2 Dual
The Autel EVO 2 Dual is part of the EVO 2 series and features an 8K camera plus a 640 x 512 pixel thermal camera. It stays in the air for up to 40 minutes and has a range of about 5.6 miles (9 km). A 360° obstacle detection system protects it in confined environments, and the thermal camera allows for detailed, high-quality footage.
DJI Matrice 600
The DJI Matrice 600 and 100 are modular flying platforms that can carry payloads of up to 6 kg. This allows for the transport of large DSLRs, thermal imaging cameras and more. Even cameras like a RED Epic can fit on the Matrice flight platforms.
DJI Spreading Wings
The DJI Spreading Wings flight platforms are also suitable for building DSLR drones and enable professional drone photography at the highest level. Other sensors and equipment can also be accommodated on the Spreading Wings series models. Meanwhile, the Spreading Wings series is no longer sold by DJI and can only be purchased used.
Types of drones
Basically, multicopters are classified according to the number of installed motors or rotors. The following overview explains the structure and the differences between the individual types of drones.
Tricopter
The tricopter (also: tricopter) represents the simplest and most compact design of multicopters. As the name suggests, it uses three motors to generate the necessary lift. The rotors, arranged in either a Y or T shape, make it a very maneuverable flying object, similar to an RC helicopter.
Tricopters have three outriggers, which are positioned at an angle of 120° (Y-shape) or 90° (T-shape) to each other. At the end of each of these arms is a motor with a gyro sensor and the corresponding propeller. The gyro sensor senses every movement and change in the flight attitude and passes this on to the flight controller. The controller then calculates the necessary compensation maneuvers and corrects the drone's position.
What makes the Tricopter special is the use of a fourth gyroscope, which is placed in the star point (the center) and uses a servo to control the sweeping motion of the rear propeller. This type of construction makes the tricopter extremely maneuverable and agile. Another advantage of the Y-construction is the large distance between the two front rotors. The resulting large field of view provides a clear view for an optional camera without the rotors protruding into the picture.
However, the thrust of a tricopter is usually too low to carry heavy loads. Furthermore, tricopters lack the necessary redundancy that is present in hexacopters, for example. If one of the engines fails, a crash is usually unavoidable.
Quadcopter
Quadcopters (also: quadrocopter) have, as the name suggests, four rotors for the necessary lift. They represent by far the most popular type of drone in the private sector.
The four motors are arranged in either an X, + or H shape. When building your own, you can choose one of the three types, depending on your personal preference. While the arrangement of the rotors in the X- or H-shape offers advantages for the attachment of a camera, the + -variant has in the eyes of some an easier control. As more and more quadcopters have a camera, most models these days are programmed from the factory for X-shape use.
Similar to the tricopter, one disadvantage of the quadcopter is the lack of redundancy in the event of a motor failure.
Hexacopter
A hexacopter is a multicopter with six rotors and motors. Especially in the professional drone segment, this type of drone is very popular because it can carry heavy payloads and offers more redundancy than a quadcopter due to the 6-rotor system.
The higher thrust allows to mount high-quality cameras and various instruments and sensors. Therefore, hexacopters are often used for agricultural, industrial, surveying, filming, and various inspection and other professional applications.
As a personal photography or video drone, a hexacopter may be oversized and a quadcopter may be a better and often less expensive choice.
Octocopter
Octocopters (also: octacopters) have eight motors and can carry even the heaviest loads. This makes them ideal for professional photo and video shoots where high-quality and heavy camera equipment needs to be transported.
In many ways, octocopters are similar to hexacopters – they're just bigger. In addition, the two additional motors once again increase the available thrust and redundancy, making it possible to install extremely heavy equipment on the drone.
Regulations & legal situation
To use a drone in the UK, you need liability insurance that covers drone flights (this is not mandatory in the USA). Therefore, check with your existing insurance company to see if drone flights are covered or if they can be added. Otherwise, take out a special drone liability insurance policy.
For drones with a take-off weight of 250 grams or more (or for all drones with a camera if you are living in the UK), registration is required. You will subsequently receive a so-called OperatorID, which must be attached to each of your drones. Furthermore, for the use of drones heavier then 250 grams you may also need a so called FlyerID (UK).
If you reside in the USA and want to use your drone for commercial purposes, you also need a Part 107 certificate.
Furthermore, it should be noted:
Do not fly higher than 400 ft (120 meters)
Only fly within visual range
Do not fly over residential areas or nature reserves
Do not fly close to airports
Do not fly in restricted airspace
Do not fly under the influence
Also, do not fly close to:
Crowds of people
Federal highways & waterways, railroad lines
Industrial facilities & facilities for power generation & distribution (power lines, etc.)
Hospitals
Military installations & organizations as well as mobile facilities and troops of the Armed Forces within the scope of declared maneuvers and exercises
Correctional facilities, facilities for the treatment of psychiatric disorders
Locations of disasters, disaster areas & operational locations of authorities & organizations with security tasks