How much does a good drone with camera cost?
The range of drones with camera is huge, so choosing the right model is not easy. We explain what you should basically look for when buying a camera drone and show you the current best photo and video drones in the different price ranges.
Drones with camera: The most important buying criteria
More and more new drones with camera are coming onto the market and it is not easy to keep track of them all. In the following, we will therefore show you which technical details you should look out for and what features you can expect from current multicopters.
The Camera: Resolution & Sensor Size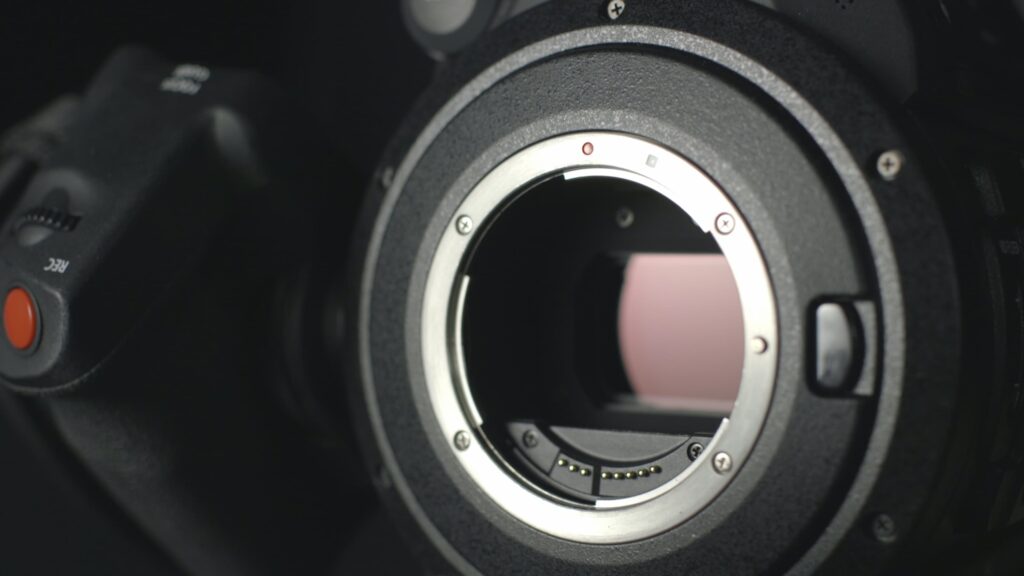 A good camera is essential for high-quality photo and video recordings. A model with Full HD resolution is therefore a must. For even more details and sharpness, there are also more and more 4K and even 6K an 8K drones with camera to choose from.
Most camera drones now have CMOS sensors with 12 to 20 megapixels (MP) and capture first-class photos and videos. Even more important than a high MP value, however, is the size of the camera sensor.
The larger the sensor, the more light it can capture and the better the eventual quality of your shots. If you want to edit photos afterwards, you should also make sure that the images can be saved in a RAW format.
The Gimbal: 2 Axes Or 3 Axes?
In addition to the camera, the camera suspension, the so-called gimbal, is primarily responsible for first-class photos and videos.
A gimbal is a kind of shock absorber that serves as an external image stabilizer and separates the vibrations of the drone from the camera. Only this decoupling creates truly jerk-free images.
Depending on how many axes the gimbal can stabilize, it is referred to as either a 2-axis gimbal or a 3-axis gimbal. Many drones with cameras that have a 2-axis gimbal are also electronically stabilized in the third axis. This works well or even very well, depending on the manufacturer and model. However, the two-axis models do not quite reach the quality of a real mechanically stabilized 3-axis gimbal.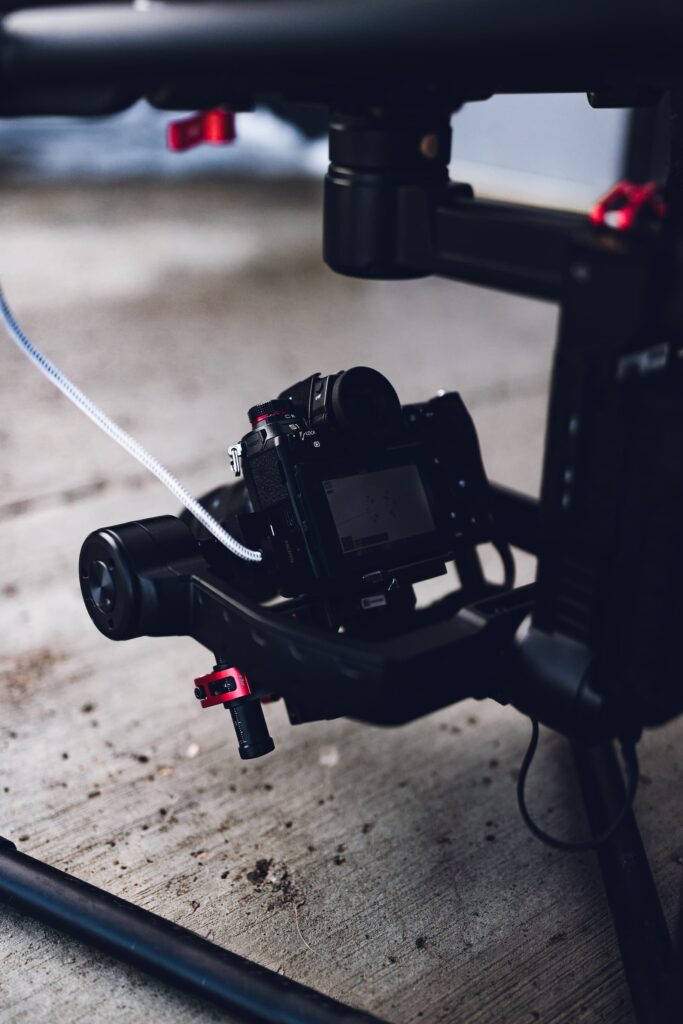 The FPV system: drones with live image transmission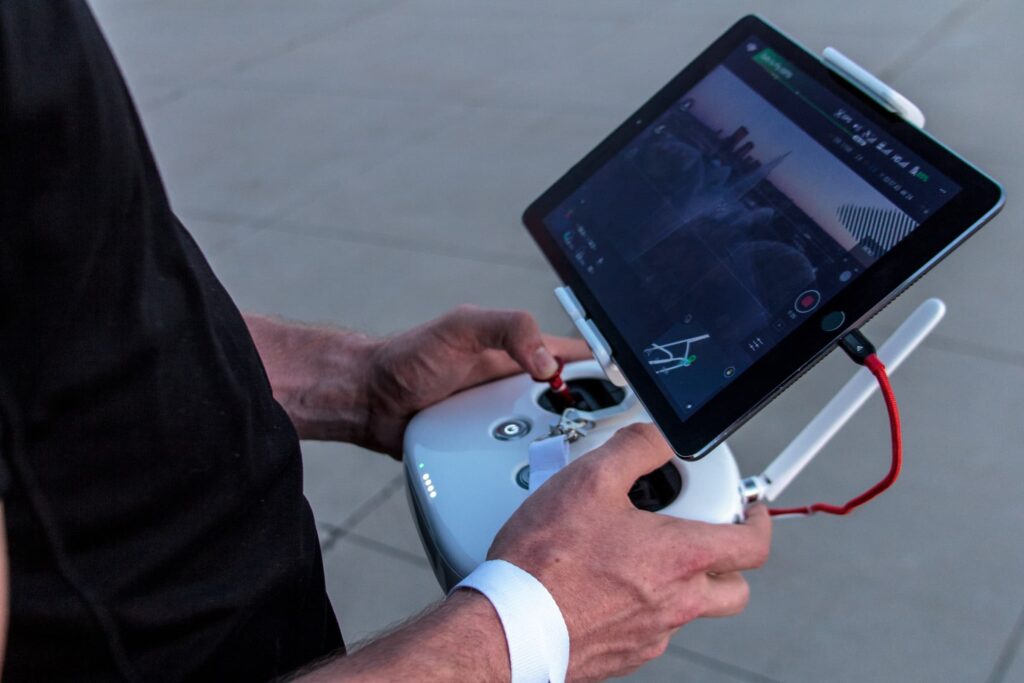 FPV stands for First Person View and, in the case of camera drones, means live image transmission from the drone camera to the screen of the remote control, smartphone or FPV goggles.
For taking photos and videos, an FPV-enabled drone is immensely helpful, if not essential. The FPV feature allows you to view the camera image in real time and adjust your photo and video shooting accordingly. Without this capability, you won't know if you even hit your subject until after the fact. Fortunately, most current video drones are FPV capable, so nothing stands in the way of top-notch footage.
In addition to regular FPV drones, there are also special FPV racing drones that allow you to either race or experience breathtaking freestyle flights.
Technical data: Flight time, range, size & weight
In addition to camera, gimbal and FPV, also flight time, range, size and weight are crucial purchase criteria.
Depending on the price range, current drones can fly for between 15 and 35 minutes. While the maximum flight time can be increased primarily by purchasing additional batteries, an increase in range is often not possible.
Even though drones may only be flown on sight, a high maximum range is still an important criterion. The higher the specified range, the more stable the signal and the less interference will occur.
The size is especially interesting if you are looking for a compact drone with a camera for on the go. Here, foldable drones are becoming more and more popular.
However, high-quality folding drones are usually a bit more expensive than comparably equipped copters without this mechanism. This is simply due to the confined space under which all components have to be accommodated.
Since the introduction of new drone regulations, you need to fulfill different requirements flying drones with a camera. Drone liability insurance is also generally required in the UK. More on this topic at the bottom of this page.
If you're looking for a drone for kids, the main thing it should have is propeller guards to protect them from the rapidly spinning rotors. In addition, guards around the propellers also extend the life of the copter, as the rotors are thus protected in the event of collisions.
Tip: If you want to know which individual components make up a multicopter, visit our guide to building a drone yourself. Here you will find information on all the individual components.
Intelligent Flight & Capture Modes
Almost all current camera drones have GPS or another positioning system such as GLONASS (link to Wikipedia) or Galileo. This allows for various automatic flight and camera modes to assist you in your shooting.
Even though every manufacturer has different functions in their offer, some flight modes have become accepted across manufacturers.
A good drone with camera should have the following functions:
Follow Me or ActiveTrack (tracking people or objects)
Orbit Me or Point of Interest (circling people or objects)
Return-to-Home (automatic return to start position)
Other convenient modes include waypoint navigation and automatic panorama capture. There are many more smart flight and recording modes, which we explain in more detail in the respective detailed reviews and product descriptions of each camera drone.
The best drones with camera: recommendations
We want to help you choose the right drone for your needs. There are now countless photo and video drones available for purchase. So that you do not lose the overview, we present the best models below.
We have divided the individual models into five categories:
DJI Mavic 2 Pro & Zoom
The DJI Mavic 2 is currently clearly one of the best drones with a camera outside the purely professional segment. The Mavic 2 is available in two versions. Once as DJI Mavic 2 Pro with Hasselblad camera or as DJI Mavic 2 Zoom with optical dual zoom.
A 1-inch CMOS sensor (Pro) works in conjunction with the three-axis mechanical gimbal to deliver brilliant photos and ultra-high-quality video. Up to 5 miles (8 km) range, 31 minutes flight time, anti-collision system for obstacle detection and a breathtaking 45 mph (72 km/h) make the DJI Mavic 2, weighing just over 900 g, one of the most popular camera drones in 2021.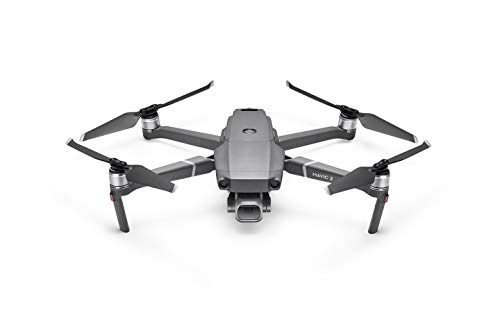 Autel EVO II
The Autel EVO II series includes three high-tech drones for the very highest demands and is ideally suited for photographers and filmmakers. The EVO II is the first drone in the consumer range to feature an 8K camera and capture photos in up to 48 MP. The EVO II Pro has a 1″ CMOS sensor and creates 6K videos and 20 MP photos. The EVO II Dual also has a thermal camera in addition to a 6K camera. All three models boast flight times of about 35 to 40 minutes and can be controlled at distances of up to 5.6 miles (9 km) (U.S.) or 3.1 miles (9 km) (Europe).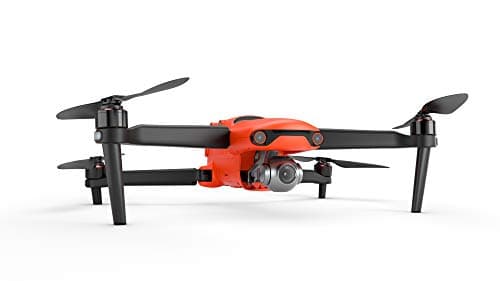 Yuneec Typhoon H Plus
The Yuneec Typhoon H Plus is a hexacopter with a free-pivoting 360° 4K camera and 3-axis gimbal. Speeds of up to 45 mph (72 km/h), 25 minutes of flight time, a range of up to 1 mile (1.6 kilometers) and a high-quality remote control with 7″ display make the 1.8 kg hexacopter one of the current best drones with camera for hobbyists.
DJI Mavic Air 2
The DJI Mavic Air 2 is positioned between the Mavic Mini and Mavic 2, but with up to 34 minutes of flight time, it still has the longest flight time of the three Mavic models. Only the Air 2 achieves 60 fps at 4K, and photos can be taken at a maximum of 48 MP. HDR and panorama shots are also possible. The quadcopter also has obstacle sensors at the front and rear.
DJI FPV Drone
With the DJI FPV, the first racing drone from DJI is now available for purchase. Up to 87 mph (140 km/h) are possible. The drone can be operated even by beginners, offers a 4K camera and comes in a set with FPV goggles.
DJI Phantom 4 Pro
The DJI Phantom 4 (Pro) has a 20 MP camera with 1″ CMOS sensor that records videos in 4K at up to 60 fps. Equipped with anti-collision system and all sorts of intelligent flight modes, the 1380 g Phantom 4 Pro reaches speeds of up to 45 mph (72 km/h) and can be controlled at a distance of up to 3.1 miles (5000 meters) for up to 28 minutes.
Parrot Anafi
The Parrot Anafi has a 4K camera, but only a 2-axis gimbal, but it can be swiveled vertically by 180° and therefore offers unique perspectives when filming.
Weighing 320 grams, the Parrot Anafi stays in the air for up to 25 minutes, reaches up to 34 mph (55 km/h) and can be controlled at distances of up to 1.25 miles (2000 meters).
DJI Mini 2
The DJI Mini 2 is the successor to the DJI Mavic Mini and now features a 4K camera. The ultra-compact quaocopter has an impressive range of up to 6.2 miles (10 km), takes photos in RAW and is capable of speeds up to 35.8 mph (57.6 km/h). The flight time is up to 31 minutes.
Xiaomi FIMI X8 SE
The Xiaomi FIMI X8 SE is an affordable alternative to current camera drones from DJI and has a 4K camera with 3-axis gimbal just like its competitors. Up to 33 minutes of flight time, a range of 5 kilometers and top speeds of up to 64.8 km/h make the 790 g foldable drone extremely attractive.
Weighing 320 grams, the Parrot Anafi stays in the air for up to 25 minutes, reaches up to 40 mph (65 km/h) and can be controlled at distances of up to 3.1 miles (5000 meters).
DJI Mavic Pro
Just like its successor, the DJI Mavic Pro features a 4K camera, a 3-axis gimbal, and an anti-collision system. Up to 4.3 miles (7 km) range, 25 minutes flight time, 40 mph (65 km/h) and various practical flight modes still make the Mavic Pro a drone with camera for the highest demands.
DJI Mavic Air
The DJI Mavic Air is smaller, lighter and also fancier than the Mavic Pro or Mavic 2. But not only the elegant design knows how to convince. 4K camera, 3-axis gimbal, obstacle detection and many intelligent flight modes make the compact camera drone with a range of up to 2.5 miles (4 km) currently very popular. Weighing just 450 g, the DJI Mavic Air achieves flight times of up to 21 minutes and speeds of up to 43 mph (69 km/h).
DJI Mavic Mini
The DJI Mavic Mini features a 3-axis mechanical gimbal, a 2.7K camera and weighs just 249 grams. Along with up to 2.5 miles (4 km) range, 29 mph (47 km/h) and almost 30 minutes of flight time, the foldable DJI Mavic Mini is currently our favorite in the mid-range price range.
Hubsan Zino 2
The Hubsan Zino 2 shoots 4K video at 60 fps, offers up to 33 minutes of flight time and a range of up to 5 miles (8 kilometers). It gets up to 45 mph (72 km/h) and offers many smart flight modes.
Xiaomi FIMI A3
The Xiaomi FIMI A3 features a full HD camera and a 3-axis gimbal. Weighing 560 grams, the video drone stays in the air for up to 25 minutes and reaches speeds of up to 40 mph (65 km/h). 1.6 miles (1000 meters) of range and many intelligent flight modes round out the wide range of features, making the FIMI A3 an interesting choice in 2021.
Holy Stone HS720E
The Holy Stone HS720E features a 4K camera with electronic image stabilization. It comes with no less than 2 batteries for about 23 minutes of flight time each. Other highlights include intelligent flight functions and a range of up to 0.6 miles (1000 meters).
Hubsan Zino Pro
Like the Mavic Air, the Hubsan Zino Pro has a mechanical 3-axis gimbal and a camera with 4K resolution. Weighing about 700 grams, the 20 mph (32.4 km/h) fast Zino Pro gets up to 23 minutes of flight time and can be controlled up to a distance of 2.5 miles (4 km).
GoolRC SG906 PRO
The GoolRC SG906 PRO quadcopter features a 2K camera with 2-axis gimbal. Photos are possible in 4K. It offers about 20 minutes of flight time and has a range of about 0.75 miles (1200 meters). Smart flight modes and an unbeatable price round out this drone's offerings.
For beginners & kids
Holy Stone HS120D
The Holy Stone HS120D is an affordable drone with full HD camera and GPS. The HS120D can be flown at a distance of up to 1300 feet (400 meters) for about 16 to 18 minutes. FPV live image transmission and three speeds let even beginners enjoy real FPV feeling. It offers smart flight modes and a convenient beginner mode that limits range and altitude.
EACHINE E511S
The EACHINE E511S is an affordable drone with GPS and live image transmission. It is available with 720p or 1080p camera. The range is up to 985 feet (300 meters) and the flight time is up to 12 minutes.
Potensic T25
The Potensic T25 quadcopter can be controlled for about 8 minutes at a distance of up to 985 feet (300 meters). It has a 1080p camera and can also be used with FPV goggles.
Dragon Touch DF01G
The Dragon Touch DF01G comes with equal 2 batteries of about 15 minutes of flight time. It has a full HD camera and can be controlled within a radius of about 395 feet (120 meters). Three speeds are available to choose from and flight modes like Follow Me and Orbit Me are also available. Videos can be edited directly in the app.
SNAPTAIN SP650
The SNAPTAIN SP650 is an extremely affordable choice that still manages to impress. 2 batteries with about 12 minutes of flight time each, FPV live image transmission and a full HD camera are available as well as automatic flight modes and a 360° flip function.
Teeggi VISUO XS816
The Teeggi VISUO XS816 can take photos in 4K and videos in 2.7K. The flight time is up to 20 minutes, and the range is about 330 feet (100 meters). Other features include a headless mode, altitude hold and one-key return.
Ryze DJI Tello
The Ryze DJI Tello is an 87-gram mini drone with an HD camera (720p), but no gimbal. The digital image stabilization still provides good results and some interesting shooting modes leave room for creativity. The Ryze Tello brings it to about 13 minutes of flight time and is an excellent drone for beginners and teenagers.
DEERC D50
The DEERC D50 is an affordable FPV drone with a 2K camera. Up to 12 minutes of flight time at a distance of about 330 feet (100 meters) is possible.
Tomzon D25
The Tomzon D25 has a 4K camera, stays in the air for up to 12 minutes and has a range of about 330 feet (100 meters). Photos and videos are stored directly on the smartphone. It has 2 batteries and an optical flow sensor on the bottom.
SNAPTAIN A10
The SNAPTAIN A10 takes photos and videos in 720p and can stream the camera's image to your smartphone. It comes with as many as 2 batteries, each of which offers about 7 minutes of flight time. The control range is about 80 feet (25 meters).
For commerce & industry
Even though some drones for hobby use are also suitable for professional applications, there are a number of professional flying platforms that are specifically designed for use in industry, agriculture and the like.
DJI Inspire 2
The DJI Inspire and DJI Inspire 2 are professional camera drones with outstanding features. The Inspire 2 is capable of handling video up to 6K resolution in CinemaDNG/RAW and 5.2K in Apple ProRes (with a Zenmuse X7). It accelerates to 0 to 50 mph (80 km/h) in just 5 seconds and reaches a top speed of 58.4 mph (94 km/h).
It has a 360° gimbal, achieves up to 27 minutes of flight time, and has self-warming batteries for low temperature flights.
Autel EVO 2 Dual
The Autel EVO 2 Dual is part of the EVO 2 series and features an 8K camera as well as a thermal imaging camera. 10-bit color depth, HDR, and a bit rate of 120 Mbps are just a few highlights of this professional drone. Diverse recording modes, up to 40 minutes of flight time and a maximum range of 5.6 miles (9 km) are impressive. Above all, the sophisticated 360° obstacle detection with a total of 12 sensors is currently unique.
DJI Matrice 100
The DJI Matrice 100 and 600 are fully customizable flight platforms that can be equipped with all kinds of sensors and devices. The Matrice 600 can lift payloads up to 6 kg and carry professional cameras up to a RED Epic.
For action cams
Even though almost all models except for professional drones have a fixed camera, there are some modular drones for GoPros and similar action cams. Drones with detachable cameras are especially interesting if you already have an action cam.
3D Robotics 3DR Solo
The 3DR Solo from 3D Robotics comes without a camera and can be retrofitted with a GoPro action cam. The modular design allows you to replace the camera with a new model at any time.
Regulations & legal situation
If you want to fly a drone above 250 grams (USA) or with a camera (UK), you have to pay attention to a few things in order not to get into conflict with the law.
First of all, you need liability insurance to operate a multicopter (UK), which covers damage caused by drones. In the meantime, it is possible with many liability insurances to have the use of drones included in the policy. Otherwise, you can also take out a special drone liability insurance policy.
For drones with a take-off weight of 250 grams or more (USA) or for those that have a camera (UK), registration is also required. In the USA, registration is carried out by the Federal Aviation Administration(FAA) and currently costs about $5. After successful registration, you will receive an ID, which must then be attached to your drone.
In addition to these regulations:
Do not fly higher than 400 ft (120 meters)
Only fly within visual range
Do not fly over residential areas or nature reserves
Do not fly close to airports
Do not fly in restricted airspace
Do not fly under the influence
Also, do not fly close to:
Crowds of people
Federal highways & waterways, railroad lines
Industrial facilities & facilities for power generation & distribution (power lines, etc.)
Hospitals
military installations & organizations as well as mobile facilities and troops of the Armed Forces within the scope of declared maneuvers and exercises
Correctional facilities, facilities for the treatment of psychiatric disorders
Locations of disasters, disaster areas & operational locations of authorities & organizations with security tasks