ACME Zoopa Q 420 – A lot of drone for a small price
The ACME Zoopa Q 420 is perfect for entry into the world of drones. Especially beginners will get their money's worth with this model. Due to the 6-axis gyro used, the Zoopa Q 420 is stable in the air and can be controlled well.
The copter has an integrated camera that records videos in 720p and delivers first-class images in good lighting conditions. With the ACME Zoopa Q 420 you get a good drone at a fair price, with which you will have a lot of fun.
Lightweight with camera
The flight time of the Zoopa Q 420 is about 8 minutes. During this time, you can perform various flight maneuvers within a radius of 262 feet (80 meters) before the 600 mAh battery wants to be supplied with power again. We generally recommend purchasing a second battery to double the flight time. To help you slowly get used to the copter, the Zoopa Q 420 has four different flight modes that allow you to gradually increase the amount of motor power called up. The copter lies well in the air and can still be controlled well even in moderate winds. The lightweight, however, does not tolerate stronger gusts as well.
The ACME Zoopa Q 420 masters various flight maneuvers and performs impressive 360° flips at the push of a button. Provided the lighting conditions are right, the integrated camera delivers sharp images in HD format. On the remote control, you can conveniently choose whether you want to take single pictures or videos. The recordings are stored on the included 2 GB SD card. A USB card reader is also included.
To protect against damage, the Zoopa Q 420 also has a rotor guard, which can also be removed if necessary. Should a propeller break, you can easily replace it with one of the included replacement propellers. In order to perform flight maneuvers in the twilight, the ACME Zoopa Q 420 has LEDs for positioning.
Despite the drone's light weight of well under 250 grams, you will meanwhile need an additional registration number and insurance (depending on your location).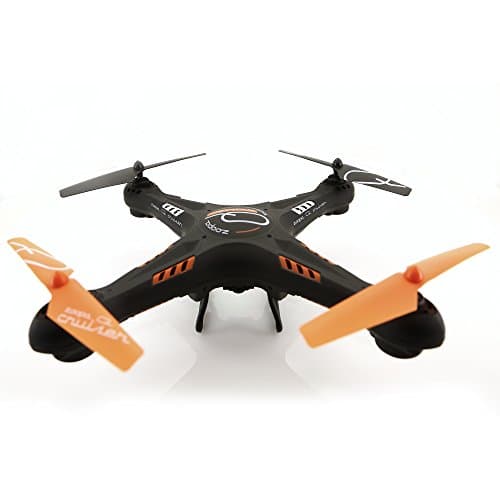 Features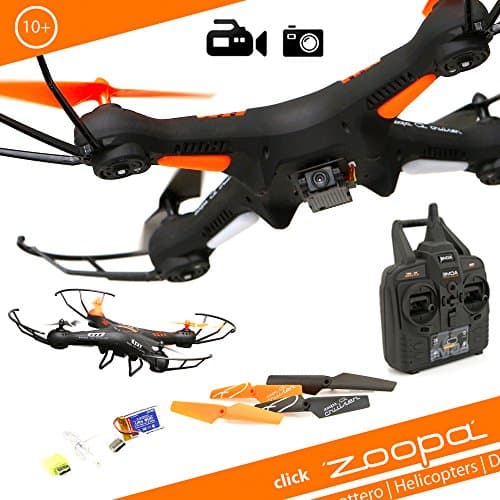 With integrated camera
Flight time: approx. 8 minutes
Range: approx. 80 meters
LED illumination
Rotor protection
Battery: 1S LiPo 3,7 V, 600 mAh
Control channels: 4 + 2 (photo/video/light)
Weight: approx. 100 g
Size: 200 x 200 x 75 mm (240 mm diagonally)
Scope of delivery
1 x Zoopa Q 420
1 x 2.4 GHz remote control
1 x Integrated 720p HD camera
1 x rechargeable battery
1 x charger
1 x USB card reader
1 x 2 GB SD card
1 x Spare rotors (4 rotors)
4 x propeller guards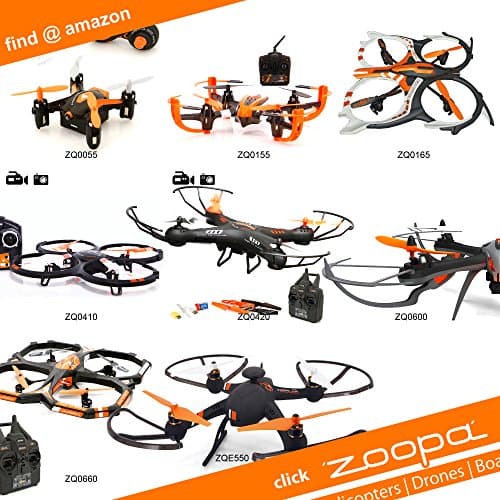 Conclusion
The Zoopa Q 420 is a solid camera drone for beginners in this hobby. The solid workmanship and the affordable price make this multicopter an ideal beginner model for all drone enthusiasts. In general, we always recommend purchasing at least one additional battery when buying a drone, in order to extend the generally relatively short flight times. Have fun flying your drone with our drone comparison!