Amewi AM X51 (FPV) | Live Image Transmission
The Amewi AM X51 FPV is a powerful FPV drone with integrated HD camera. With this drone you can record HD videos in 720p and view the camera live image simultaneously on the included remote control. With its futuristic design, this is clearly different from most commercially available remote controls and makes quite a visual impact. The quadcopter is not an FPV racer, but a drone for beginners, which is quite convincing. The range of the Amewi AM X51 FPV is about 330 feet (100 meters), which allows for extended exploration flights. The flight time of the drone is about 6 minutes.
the FPV function
The FPV drone allows you to check during the flight what you are filming and how your later video will look like in the end. The live image of the AM X51 FPV is transmitted via 2.4 GHz frequency to the large (4.5″) and sharp LCD display of the remote control. This makes impressive videos possible and filming is much easier than without the FPV function. The videos are stored on the included 4 GB microSD card and can be transferred to the home computer using the included card reader.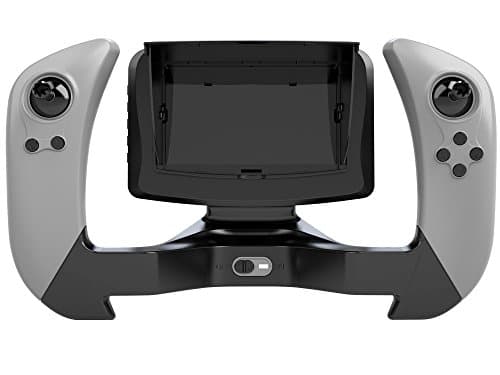 Conclusion
The AM X51 FPV has a smooth flight behavior, which is not least due to the installed 6-axis gyro. This stabilizes the drone with camera and makes it easy to control. Thanks to the modern flight technology, even flips are possible at the push of a button and can be quickly mastered even by beginners. The sturdy polystyrene frame of the Amewi AM X51 FPV protects the drone from damage in minor crashes and is more stable than some plastic frames of the competition.
The package also includes a USB charging cable, four spare rotors, a LiPo battery (7.4 V, 1000 mAh) for the drone and a LiPo battery (3.7 V, 450 mAh) for the remote control. An instruction manual is also included.