DEVASO S15 – Rugged Mini Drone without Camera
The DEVASO S15 is a robust mini drone for kids and beginners. It does not have a camera, but comes with three batteries and offers very easy control.
Design and weight
The ultra-compact mini quadcopter has a black body and features four yellow propellers, each surrounded by a protective ring. The so called prop-guards protect the small drone in the event of collisions with objects or walls, and bystanders also run no risk of coming into contact with the rapidly spinning rotors.
Measuring just 9 x 7.9 x 3.2 cm, the mini-copter weighs only about 30 grams, making it a real lightweight. The compact toy drone is perfect for use in the house, apartment or office, but can also be used outdoors in calm conditions.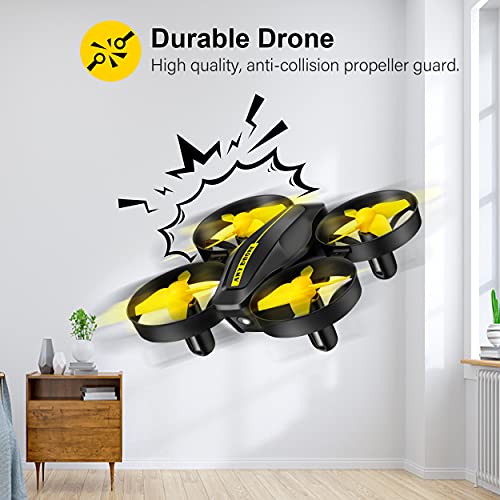 Easy to control and extremely robust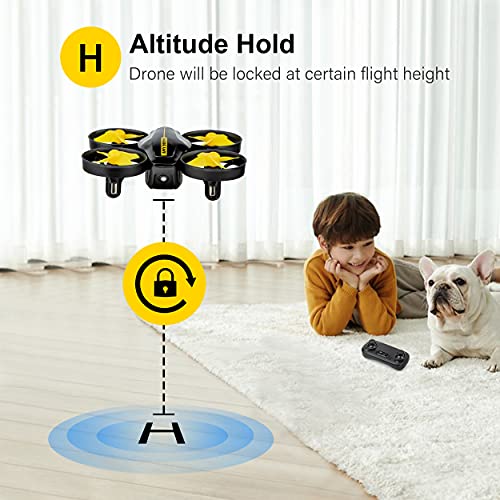 Several practical features contribute to the drone's ease of use. For example, takeoff and landing work quite simply at the touch of a button. If you want, you can also launch the mini drone by simply throwing it into the air.
Once in the air, the DEVASO S15 then independently maintains the current flight altitude (altitude hold). The remote control included in the scope of delivery can be used to select between three different speeds during the flight. This way, you can slowly get used to handling the drone.
No matter in which speed level you use the drone, it can always be controlled easily and precisely and thus presents even absolute novices with no problems. Since the DEVASO S15 is also very robustly built, it almost always survives collisions and crashes completely unscathed. Should a propeller still break, you can simply replace it with one of the included spare propellers.
The flight time of the DEVASO S15
The flight time of the DEVASO S15 is about 6 minutes per battery. Since the mini drone comes with a total of three batteries, you can enjoy up to 18 minutes of flight time before the batteries need to be recharged via the included USB charging cable.
To charge, simply connect the USB charging cable to your smartphone's power adapter or plug it directly into a PC, laptop or power bank.
360° overshoot and headless mode
If you want, you can perform somersaults with the DEVASO S15 at the push of a button. The so-called 3D flips can be triggered via a button on the controller and are possible in all four directions.
If you want to try an even easier control, you should activate the headless mode. In fact, in this mode, it doesn't matter which direction the front of the drone is facing when you want to perform a direction change. So, rethinking due to the drone's orientation is not necessary in this mode and the copter will always fly in the direction you are facing.
However, we recommend that you do not fly in headless mode for too long and also learn the normal drone controls, since by far not all drones have headless mode.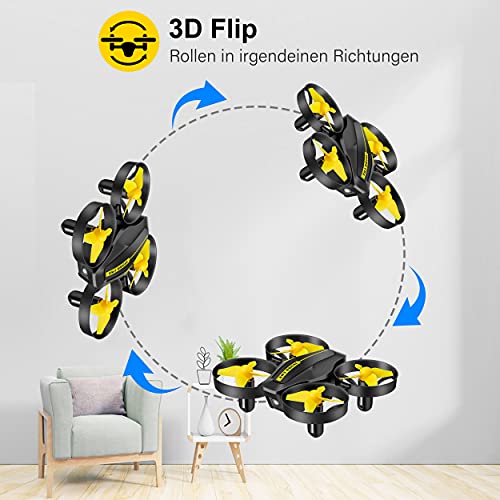 Scope of delivery
1 x DEVASO S15 Mini Drone
3 x battery
1 x remote control
1 x USB charging cable
2 x spare propeller pair
1 x instruction manual
Conclusion
The DEVASO S15 is a sturdy mini drone that makes a great drone for kids, as it is not only extremely sturdy and lightweight, but also very easy to control. Moreover, the rotor guard protects the little ones should the drone ever get too close to them.
Thanks to the three batteries that are included, you can stay in the air and fly around for up to 18 minutes in total.
The DEVASO S15 does not have a camera. If you want to take aerial photos with your copter, you should check out our drones with camera page. However, the small copter is perfectly suitable for learning basic drone controls and gaining first flight experiences.
We think the DEVASO S15 is a successful mini drone for young and old and wish you a lot of fun flying it!