DJI Mavic 3 (Fly More Combo) – high-end camera drone with 5.1K
The DJI Mavic 3 is the latest high-end drone from DJI. It is mainly aimed at demanding hobby pilots who want to capture first-class photos and videos, as well as professional photographers and filmmakers.
The drone has a dual camera (5.1 K main camera + 162 mm telephoto camera), has a flight time of up to 46 minutes per battery and comes up with various other highlights that make the DJI Mavic 3 currently probably the best drone in the compact class.
The chic quadrocopter is available in two variants, once as DJI Mavic 3 Standard and once as DJI Mavic 3 Cine with Apple Prores 422 HQ, 10-bit D-log and 1TB SSD. A Fly More combo is also available.
The variants: Standard, Fly More Combo & Cine Premium Combo
While only one battery is included in the standard version, as usual from DJI, two additional batteries (three in total) are included in the Fly More Combo as well as in the Cine Premium Combo. Another multiple charger is also included in the combo offerings.
Also included in each of the combo versions is an additional ND filter set (ND4/ND8/ND16/ND32) as well as a handy carrying case. The DJI Mavic 3 Cine Premium Combo also includes the new second-generation smart controller (DJI RC Pro).
Design and weight
Except for the additional camera at the front, the DJI Mavic 3 is very similar to the DJI Mavic 2. Nevertheless, the Mavic 3 appears even higher quality, which is also due to the new color (dark anthracite).
The revised aerodynamics ensure even more efficiency in battery use and a slightly improved flight attitude. The noise level of the motors and propellers has also been improved again compared to the DJI Mavic 2.
As usual from the Mavic series, the third generation is again equipped with foldable arms and quick-release propellers.
When folded, the drone comes to dimensions of 22.1 x 9.63 x 9.3 cm. When unfolded, it measures 34.75 x 28.30 x 10.77 cm. The weight of the copter is 895 grams or 899 grams (DJI Mavic 3 Cine). Thanks to the powerful motors, the Mavic 3 can withstand wind speeds of up to 13.8 m/s (49.68 km/h).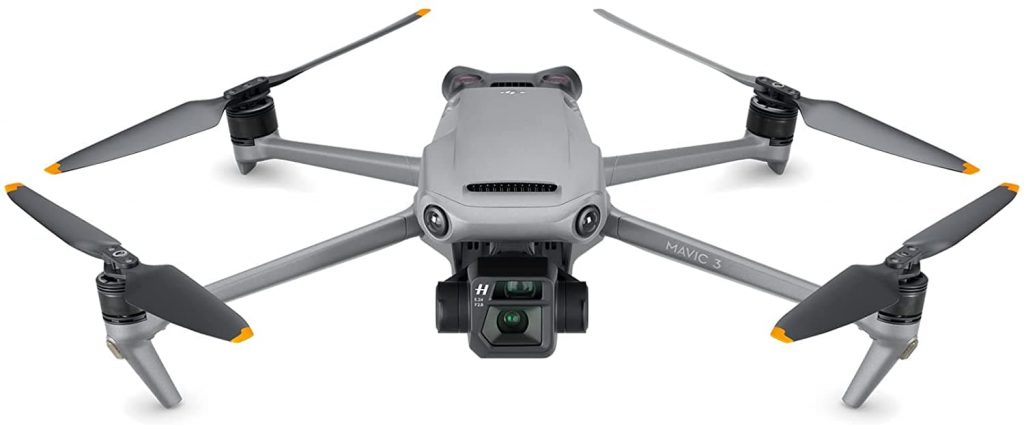 Equipment and flight characteristics
In addition to GPS, the DJI Mavic 3 also uses the European satellite navigation system Galileo and its Chinese counterpart BeiDou to determine its position.
The built-in landing light, which was already installed in the DJI Air 2 and Air 2S, ensures a safe landing even in poor lighting conditions.
The Vision Positioning System (VPS), which permanently scans the ground with the help of a small ground camera and stabilizes the current flight position based on the data, ensures a stable flight position indoors without GPS reception.
The Return to Home mode also benefits from the precise positioning, which therefore works even more accurately than with the DJI Mavic 2. Thanks to the built-in obstacle detection system (more on this below), the drone even independently adjusts its flight path on the way home if an obstacle blocks the direct path.
The remote controls
While the DJI Mavic 3 Standard version and the Fly More Combo include the normal remote control (RC-N1), the DJI Mavic 3 Cine Pro Combo includes the new DJI RC Pro smart controller.
Standard (RC-N1)
The standard RC-N1 remote control is already known from the Mini 2, Air 2 and Air 2S and features integrated antennas, detachable joysticks and a pull-out smartphone holder. An LCD display for showing the telemetry data is therefore no longer present here either. Instead, four small LEDs provide information about the current charging state.
The various switches and buttons for triggering the different functions are well-positioned and easy to reach, as is typical for DJI.
What we don't like is that the normal remote control has been stripped of some practical functions that were still available on the DJI Mavic 2 Pro. For example, the freely assignable control pad and the zoom wheel are missing. Only one button is now responsible for triggering photos and videos. Focusing before taking a photo by lightly pressing the shutter button also no longer works, and you have to readjust via recording via the app on the display.
Here it seems as if DJI more or less wants to force its customers to buy the DJI RC Pro Controller, which costs almost 1000 Euros again.
DJI RC Pro
The DJI RC Pro remote control is DJI's latest smart controller and unlike the standard radio, it features a 5.5-inch display with an outstanding brightness of 1,000 nits. So even in direct sunlight, you can easily see all the details. The live images from the drone camera are transmitted in 1080p at 60 fps.
For missions in environments with a lot of interfering signals and/or obstacles (urban interiors), you can also control the Mavic 3 via the 4G cellular frequency when using the DJI cellular dongle with the DJI RC Pro at the same time. The O3+ system always monitors signal quality during flight and seamlessly switches between Wi-Fi transmission and 4G control when needed.
Other highlights of the Pro controller include support for third-party apps, live streaming capability, and fast charging time (1.5 h) and long battery life (3 h).
Omnidirectional obstacle avoidance
The DJI Mavic 3 features an omnidirectional obstacle detection and avoidance system. The obstacle detection sensors operate in all directions (down, up, front, back, side) and, together with APAS 5.0 (Advanced Pilot Assistance System 5.0), allow the DJI Mavic 3 to independently avoid objects in the flight path.
The detection range of the individual sensors on the different sides of the drone is not the same in all directions. While the detection range to the front is a full 219 yards (200 meters), the side sensors only measure up to a distance of 27.3 yards (25 meters). To the rear, the measuring range extends to 17.5 yards (16 meters), down to 19.7 yards (18 meters) and up to 11 yards (10 meters).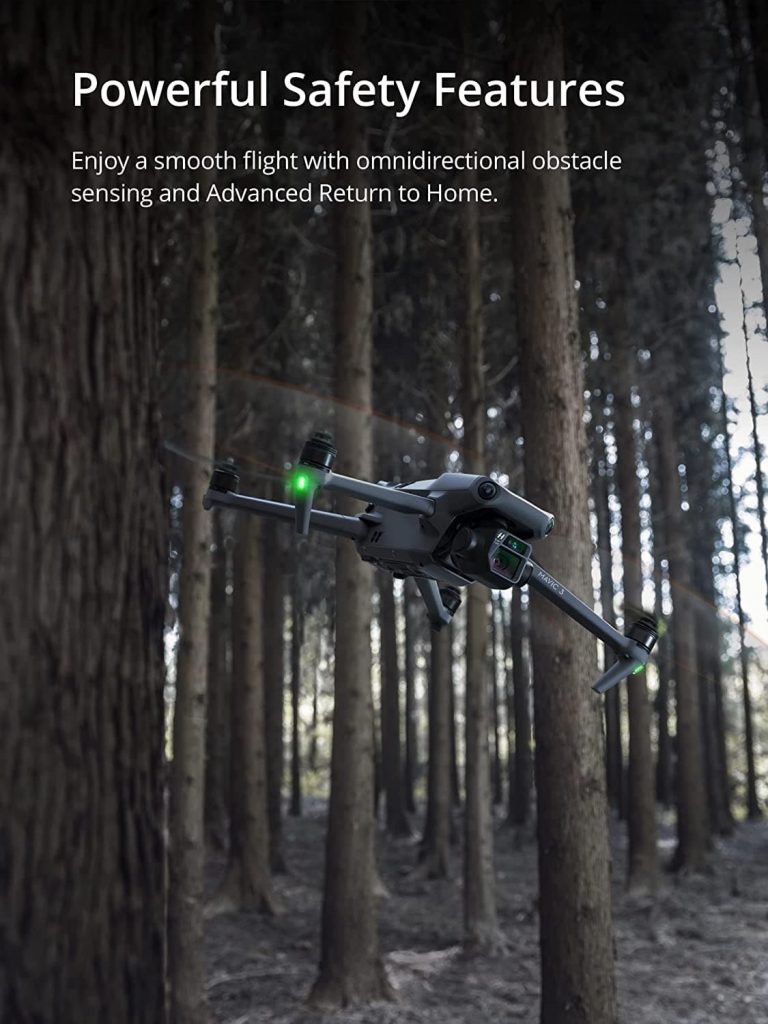 Flight time and range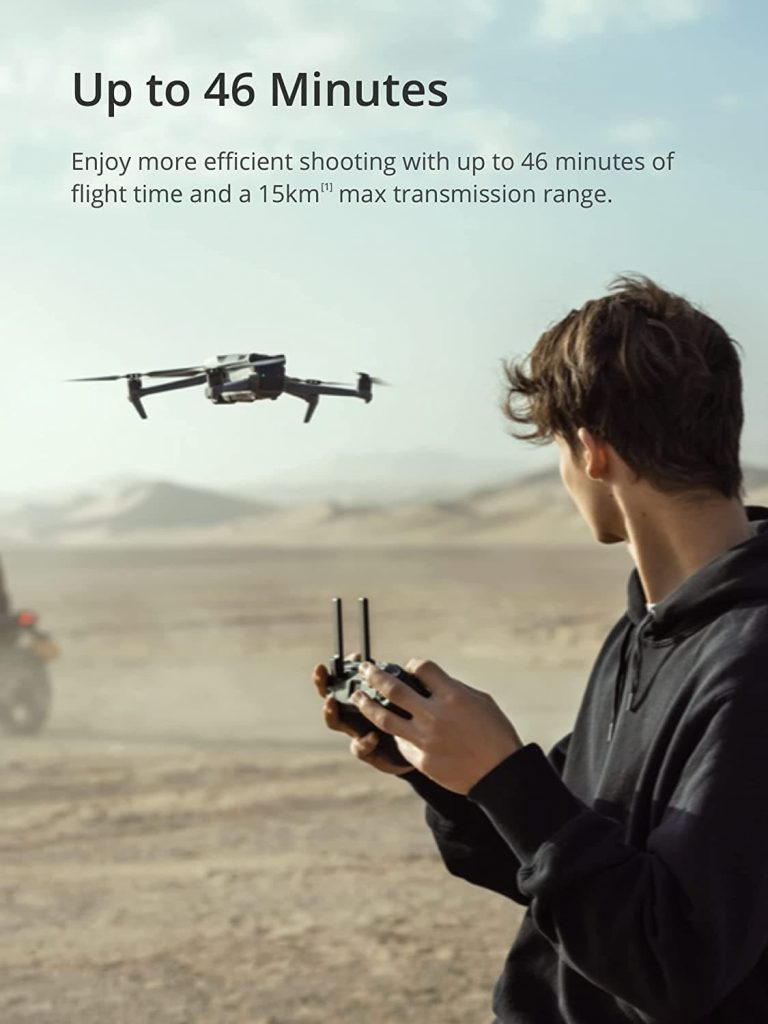 The flight time of the DJI Mavic 3 is up to 46 minutes per battery. This is made possible by the use of a 15.4 V, 5000 mAh 4S LiPo battery, which can be fully charged in about 95 minutes. The weight of the battery is 335.5 grams.
The control range as well as the distance of video transmission (1080p at 60 fps) of the drone are up to 9.3 miles (15 km) in the FCC space (USA) and up to 5 miles (8 km) in the CE space (Europe), respectively. The extremely long distances are made possible by the sophisticated OccuSync 3.0+ (O3+) transmission system.
Flight behavior and speed
The flight behavior of the DJI Mavic 3 is extremely precise, very agile and yet beginner-friendly. Basically, you have three different flight modes to choose from: Normal, Sport and Cine. GPS and VPS are active in all three modes.
In Normal mode, the drone reaches speeds of up to 33.55 mph (54 km/h) or 15 m/s. In Sport mode, even up to 42.45 mph (68 km/h) or 19 m/s is possible, while the Mavic 3 travels at a leisurely 11.18 mph (18 km/h) or 5 m/s in Cine mode. The latter mode is especially suitable for making smooth camera movements. Here, the drone doesn't respond quite as directly to control commands and the maximum pitch angle is limited to 25°.
The maximum climb speed in Sport mode is 17.9 mph (28.8 kmh) or 8 m/s. That is twice as much as the Mavic 2 Pro.
The cameras of the DJI Mavic 3
The DJI Mavic 3 has two separate cameras for taking photos and videos. A Hasselblad camera with 5.1 K and a telephoto camera (162 mm, F4.4, 28x hybrid zoom) are available. Both cameras are suspended from an excellent 3-axis mechanical gimbal.
Hasselblad camera
The Hasselblad L2D-20c camera was designed specifically for the Mavic 3 and features a 4/3″ CMOS sensor in Micro-Four-Thirds dimensions, familiar from various system cameras.
The camera records video in a maximum of 5.1K at 50 fps. Up to 120 fps is possible for 4K videos and even up to 200 fps for Full HD recordings. Photos are recorded in 20 MP (5280 x 3956 pixels).
The FOV (field of view) is 84° and thus slightly wide-angled. The main camera has a variable aperture from F2.8 to F11 and has an equivalent focal length of 24 mm.
The ISO range for photos and videos is between 100 and 6400, and the dynamic range covers a full 12.8 f-stops, which provides more details in light and shadow, as well as improving more natural transitions between highlights and shadows. Thanks to the 10-bit D-Log color profile used, with up to 1 billion colors, your images will also show extremely natural colors. Thanks to the D-Log color profile assistant, the live image can also be displayed in "normal colors" on the smartphone screen.
The 4x digital zoom can be used to bring distant objects closer. The focus range is 1m to infinity. The bitrate of the video transmission is 200 Mbit/s, which promises high-quality video recordings.
Since the DJI Mavic 3 Cine supports the Apple ProRes 422HQ codec with a data transfer of up to 3,772 Mbit/s, even more quality is to be had here.
Other highlights of the main camera are VDAF (Visual Detection Auto Focus Technology) and HNCS (Hasselblad Natural Colour Solution).
The 20 MP photos can be saved as JPEGs and DNG files (RAW). In addition to single shooting, a burst mode with 3, 5 or 7 frames per second is also available. Photos and videos are stored either on the 8 GB internal memory (1 TB SSD for DJI Mavic 3 Cine) or on a microSD card of up to 512 GB (not included).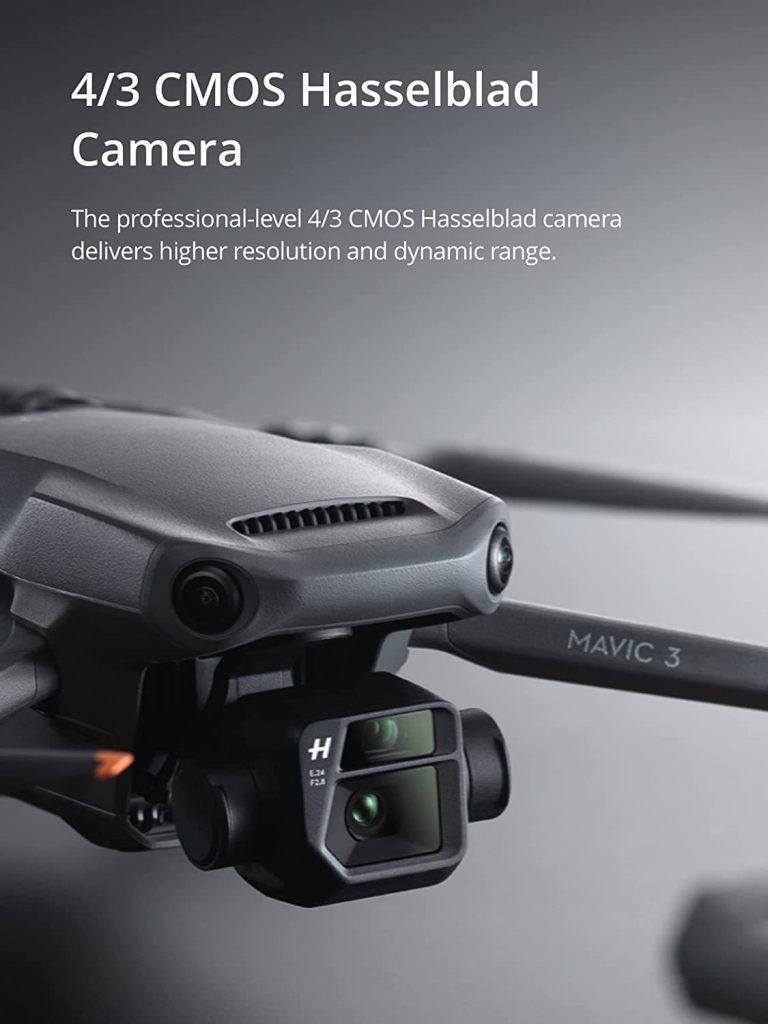 Video resolutions
1K: 5120×2700 with 24/25/30/48/50 fps
DCI 4K: 4096×2160 with 24/25/30/48/50/60/120* fps
4K: 3840×2160 with 24/25/30/48/50/60/120* fps264/H.265
1K: 5120×2700 with 24/25/30/48/50 fps
DCI 4K: 4096×2160 with 24/25/30/48/50/60/120* fps
4K: 3840×2160 with 24/25/30/48/50/60/120* fps
Full HD: 1920×1080p with 24/25/30/48/50/60/120/200 fps
*Frame rates above are recording frame rates. Videos are played back as slow motion videos.
Video formats
Mavic 3:
MP4/MOV (MPEG-4 AVC/H.264, HEVC/H.265)
Mavic 3 Cine:
MP4/MOV (MPEG-4 AVC/H.264, HEVC/H.265)
MOV (Apple ProRes 422 HQ)
Telecamera
The DJI Mavic 3's unique telephoto camera is primarily used for exploring and planning photo and film subjects. It has a 1/2″ CMOS sensor and has a field of view of 15°. The focal length is 162 mm and the aperture is F4.4. Focus is possible from 3 m to infinity.
Photos are recorded in 12 MP (4000 x 3000 pixels) as JPEG files. Videos can be created in a maximum of 4000 x 3000 pixels and saved in MP4/MOV format.
To capture distant objects, the telephoto camera has a 28x digital zoom. The camera can tilt between -90° to 35° and pan between -5° to 5°. The panning speed is 100°/s.
Intelligent flight and recording modes
ActiveTrack 5.0
The popular ActiveTrack function is now available in its 5th generation and works even more precisely and reliably than in the previous version. Objects or people are tracked very precisely and kept in the field of view, even if they disappear behind an obstacle for a short time. Video recordings in this mode only work at a maximum of 4K and 60 fps.
MasterShots
The new name MasterShots hides the QuickShots already known from the previous models.
What's new is that the Mavic 3 can automatically edit recordings in this mode and add music or subtitles if desired. There are various templates to choose from. The original recordings are of course retained and can be edited independently in post-production.
The following modes are available: Dronie, Rocket, Circle, Helix, Boomerang and Asteroid.
Panorama
When the DJI Mavic 3 went on sale, the panorama mode was not yet selectable. In the meantime (since the update v01.00.0500), however, the mode is available and allows you to conveniently take panorama shots.
Hyperlapse
In Hyperlapse mode, the drone independently makes a time-lapse recording while moving over a defined distance.
In total, there are four different Hyperlapse modes available: Waypoints, Circle, Free and Course Lock.
Scope of delivery
1 x DJI Mavic 3
1 x DJI RC-N1 remote control
1 x DJI RC-N1 Remote Control Stick
1 x DJI RC-N1 remote control cable (USB-C)
1 x DJI RC-N1 remote control cable (Micro-USB)
1 x DJI RC-N1 Remote Control Cable (Lightning)
1 x DJI Mavic 3 Intelligent Flight Battery
3 x DJI Mavic 3 Low Noise Propellers (Pair)
1 x DJI 65W Portable Charger
1 x DJI Mavic 3 Protective Cover
1 x USB-C Cable
1 x Instruction Manual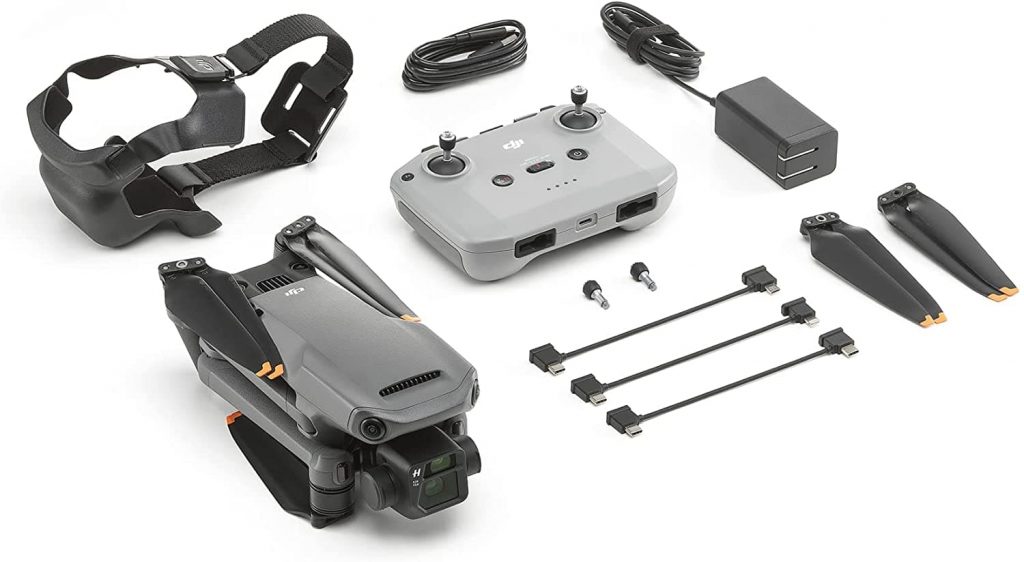 Conclusion
With the DJI Mavic 3 you currently get one of the best, if not the best drone in the consumer sector. The foldable quadrocopter offers impressive potential in the field of photo and video recording, features an extremely long flight time and extremely high range, and convinces with easy handling and all sorts of practical extras.
Videos can be recorded in up to 5.1 K at 50 fps and photos can be created in 20 megapixels. Thanks to the omnidirectional obstacle detection and avoidance system, the drone can independently detect objects in its flight path and avoid them on its own.
In terms of features, the Mavic 3 offers great features such as ActiveTrack 5.0, hyperlapse and panorama shooting, and many other photo and video capture functions.
If you are willing to spend the necessary money, the DJI Mavic 3 is an ultra-high-quality camera drone that promises a lot of fun and, above all, impressive shots!