DJI Mavic Air – Compact 4K drone in foldable design
The DJI Mavic Air is a foldable drone with a 4K camera and an affordable alternative to the DJI Mavic Pro 2. Equipped with a 3-axis gimbal, obstacle detection and all sorts of smart shooting modes, you get a compact camera drone for beginners and advanced users with the Mavic Air.
Processing and design
The DJI Mavic Air weighs 430 grams and is available in three color variants: Arctic White, Onyx Black and Flame Red. When folded, the camera drone measures 16.8 x 8.3 x 4.9 cm, making it comparable in length and width to today's smartphones.
The drone's aerodynamic chassis and newly developed hinges on the arms ensure excellent flight characteristics and good controllability.
Another new feature is the improved gimbal protection, which now protects the camera system much better during transport and can be attached and removed more easily.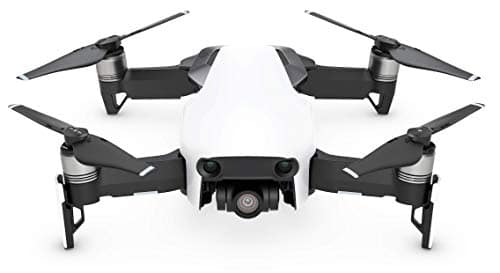 Technical data and handling of the DJI Mavic Air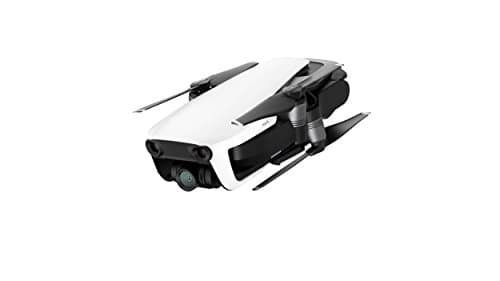 The DJI Mavic Air has a 2375 mAh, 11.55 V LiPo battery and thus achieves flight times of up to 21 minutes. For even longer flight times, we recommend purchasing an additional battery for the DJI Mavic Air. The 430 g quadcopter has a stated maximum range of 2.5 miles (4 km) (FCC) or 1.25 miles (2 km) (CE) in Europe. Video transmission in Europe is said to be around 550 yards (500 meters), according to DJI. Since drones are only allowed to be flown on sight in many countries, these ranges are more than sufficient for most pilots.
It should also be remembered that a high maximum range also means stronger signal transmission at short distances. Both control and video signals are transmitted more stably and there are fewer connection interruptions or image jerks. On the DJI Mavic Air, by the way, four antennas housed in the landing legs ensure a stable signal in all directions.
Handling
The DJI Mavic Air's maximum speed in Sport mode (Mode S) is 42.5 mph (68.4 km/h), just above that of the DJI Mavic Pro (40.2 mph or 64.8 km/h) and well above that of the DJI Spark (31 mph or 50 km/h). In normal mode (mode P), the Mavic Air reaches 17.9 mph (28.8 km/h).
A GPS/GLONASS module is available for determining the drone's position, and thanks to the FlightAutonomy 2.0 sensor system, which is important for obstacle detection, the DJI Mavic Air has very stable flight characteristics and remains safely in the air even in moderate winds.
By the way, if you want to experience the Mavic Air as a true FPV racing drone, you can also connect compatible video goggles, such as the DJI Goggles, to the copter.
Obstacle detection
In addition to the primary camera, the DJI Mavic Air has two additional stereo cameras each at the front and rear, which detect obstacles at a distance of up to 80 feet (24 meters). The drone also has an infrared sensor and two additional cameras on the underside (VPS).
During flight, the drone scans its surroundings and uses them to create a 3D model for orientation. Together with the Advanced Pilot Assistance System (APAS), the DJI Mavic Air can thus automatically fly around obstacles or stop in front of them. It should be noted, however, that the system is only a safety feature and you should never fully rely on the intelligent assistance systems.
Since the additional cameras rely on good lighting and contrast conditions, the DJI Mavic Air does not recognize thin branches or other delicate objects, for example. Also, the automatic stopping in case of obstacles only works to the front down behind, but not to the side.
Camera and shooting modes
The DJI Mavic Air's 4K camera has a 1/2.3″ sensor and is stabilized by a 3-axis mechanical gimbal. The camera has a field of view of 85° and records videos in up to 4K UHD (3840 x 2160). While the frame rate in 4K is a maximum of 30 fps, 60 fps is achieved in 2.7K (2750 x 1530). In Full HD, recordings can be made at up to 120 fps.
At 100 Mbit/s, the bit rate clearly exceeds that of the DJI Mavic Pro (60 Mbit/s) and therefore promises very good image quality in video recordings. Another highlight is also the fact that shutter speed and ISO can be adjusted manually when filming.
The DJI Mavic Air has a fixed aperture of f/2.8 and takes photos in 12 megapixels. The shots are stored in JPEG or DNG RAW on the internal 8 GByte memory or on a microSD card of up to 128 GByte.
Besides the normal mode, an interval mode and a panorama mode with a 32-megapixel spherical panorama as well as an HDR mode and a continuous shooting are available for taking pictures.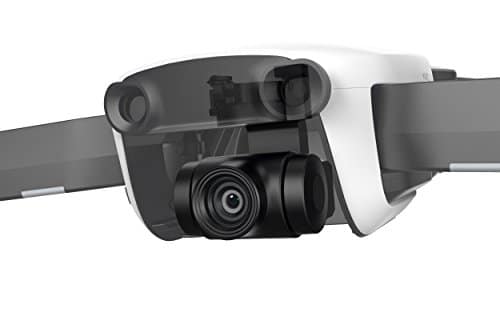 Maximum video resolutions
4K (3840 x 2160) @ 30 fps
2,7K (2720 x 1530) @ 60 fps
Full HD (1920 x 1080) @ 120 fps
HD (1280 x 720) @ 120 fps
Intelligent flight and recording modes
The DJI Mavic Air features a variety of automatic flight and recording modes that allow you to create creative and exciting video clips.
For example, the drone features ActiveTrack, already known from the Mavic Pro. In this mode, the drone can automatically follow an object or person and film at the same time. A total of three sub-modes are available: Track, Profile and Spotlight.
In Point of Interest (POI) mode, the drone circles around a person or object while recording video.
With the SmartCapture feature, the Mavic Air can be controlled with hand gestures while taking photos and videos.
TapFly lets you send the copter to a desired location with the touch of a finger. Simply mark the target position on the smartphone screen and the DJI Mavic Air will automatically set off. This way, you can focus entirely on taking the camera shots during the flight.
In QuickShot mode, the Mavic Air creates short video sequences fully automatically and even backs them with music if desired. The modes available here are Dronie, Circling, Helix, Rocket, Boomerang and Asteroid.
In all QuickShot recording modes, the drone pilot is always filmed while the copter moves around him, towards him or away from him. In Asteroid mode, the drone automatically generates a video that simulates the effect of a crashing celestial body right next to you – a pretty impressive feature.
One feature that should appeal most to ambitious photographers and amateur filmmakers is the Tripod mode. Once activated, the speed and sensitivity of the drone is greatly reduced, allowing for extremely precise maneuvers and camera pans.
Cinematic mode also slows down the speed of the DJI Mavic Air. Additionally, the drone slows down more slowly in this mode, making video recordings look even smoother.
The remote control of the DJI Mavic Air
The controller of the DJI Mavic Air is small, handy and easy to transport thanks to removable control joysticks. The remote control uses both the 2.4 GHz and 5.8 GHz frequency bands to transmit control commands and receive the 720p live video image.
The camera image is displayed on your smartphone, which you attach to the holder on the controller and connect to the drone using the included cables (microUSB, USB-C, Lightning).
Scope of delivery
DJI Mavic Air
LiPo battery (2375 mAh, 11.55 V)
Controller (2970 mAh, 3.7 V)
Charger with power adapter
Charging/connection cable for Android & iOS
4 pairs of propellers
Propeller protector
Gimbal protector
Carrying case
Instruction manuals
In addition to the standard equipment, in the Fly More Combo you get two more batteries and two pairs of extra propellers.
Conclusion
The DJI Mavic Air is an ultra-compact, foldable drone with 4K camera and mechanical 3-axis stabilization. The drone, which can reach speeds of up to 40.2 mph (64.8 km/h), impresses with excellent signal quality and is also perfect for beginners thanks to GPS/GLONASS and obstacle detection.
The many automatic flight modes let you create impressive photo and video recordings, and the bit rate of 100 Mbit/s ensures crisp sharpness and rich contrasts.
All in all, the DJI Mavic Air ranks above the DJI Spark and below the DJI Mavic 2 Pro in terms of price and performance. The DJI Mavic Air is therefore the perfect entry-level drone for ambitious hobbyists!