Holy Stone HS110G – GPS entry-level drone with camera
The Holy Stone HS110G is an affordable GPS drone with a Full HD camera and live FPV transmission. The HS110G, which is also offered by Eanling, weighs only 176 grams and is perfectly suited for beginners.
Design and equipment
Weighing 176 grams and measuring 30.6 x 9.3 x 9.1 cm, the Holy Stone HS110G comes all in classy black and features four LEDs for positioning.
Unlike many other drones in this price range, the Holy Stone 110G has GPS and therefore has some features that are otherwise only found on more expensive multicopters.
This includes, for example, the Follow Me function, in which the drone can independently follow the signal of the remote control, and thus you as the pilot, while simultaneously recording a video.
Takeoff and landing of the Holy Stone HS110G work quite simply at the push of a button, and an emergency landing function is also available. If you ever lose control of the drone, just press the takeoff/landing button for about two seconds to land the HS110G on the spot.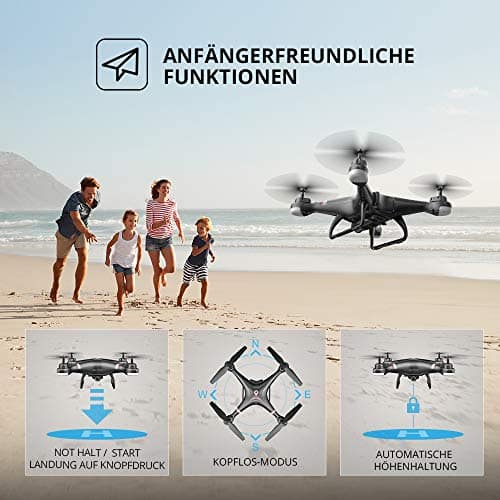 Another safety feature is the Return-to-Home function, which is automatically activated when the battery is low or the signal to the remote control is lost, allowing the drone to safely return to the launch position or drone landing site.
Beginners in particular will also be pleased with the so-called headless mode. In this mode, it does not matter for the control of the drone whether the front or the tail of the drone is pointing straight at you. For example, if you execute a control command to the left, the drone will always fly in this direction, no matter how it is currently oriented in the sky. Of course, this behaves the same way for all other direction changes.
However, we recommend that you only fly in headless mode for as short a time as possible and also deal with the normal controls of the drone, as not all drones have headless mode.
Since the Holy Stone HS110G does not have rotor guards, the drone is not easily recommended for children. The fast spinning propellers can always pose a danger to bystanders and thus pose a risk of injury. So if you are looking for a gift for kids or teenagers, you better take a look at our overview on the topic of drones for kids.
Flight time and range of the Holy Stone HS110G
The flight time of the Holy Stone HS110G is about 13 minutes. This is quite a decent value for copters in this price segment. The flight time is made possible by a 1500 mAh battery, which is recharged in about 180 minutes via USB charging cable.
The control range of the Holy Stone HS110G is up to 330 yards (300 meters). Here it always depends on how the terrain is and how many other devices in the area are transmitting in the same frequency range.
The Holy Stone HS110G is controlled via 2.4 GHz remote control and optionally also via smartphone. For this, you simply need to download the corresponding app from Holy Stone. Thanks to a fold-out smartphone holder, almost any smartphone can be conveniently attached to the controller.
The remote control is powered by a 300 mAh battery, which is recharged in about 60 minutes. Compared to other affordable drones, we like that the Holy Stone HS110G has a rechargeable battery and does not require AA or AAA batteries for operation.
The transmission of the drone's live FPV image to your smartphone works at ranges of up to 110 yards (100 meters).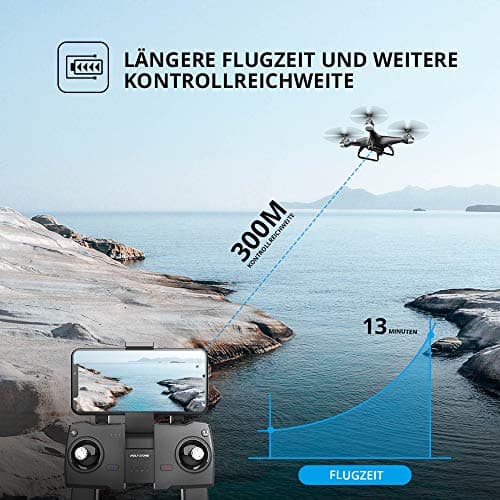 The camera of the Holy Stone HS110G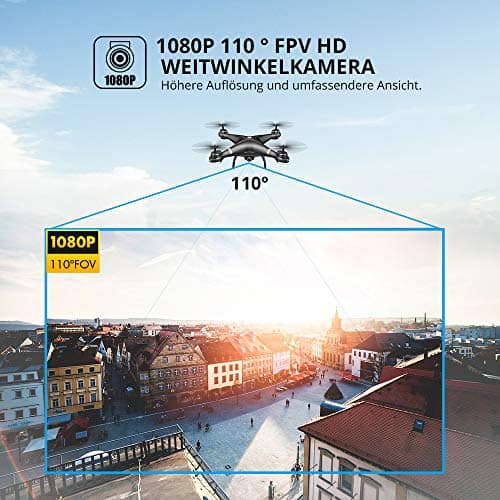 The built-in Full HD camera of the Holy Stone HS110G records videos in 1920 x 1080 pixels. The camera's field of view is 110°, which makes it extremely wide-angled. Unfortunately, the camera's preset angle cannot be adjusted, either during or before flight.
With an aperture of f/2.0, the camera is relatively fast, but due to the rather small image sensor, you should not expect miracles when taking pictures in twilight.
Basically, the camera takes very solid pictures for a drone for about 100 dollars, but the quality of the pictures is of course far from current top camera drones.
Photos and videos are stored either on the smartphone or on a microSD memory card of up to 32 GB. Please note, however, that videos can only be recorded and saved in 720p, should you not use a memory card in the drone. Full HD videos can therefore only be recorded if you use a memory card!
Photos are saved in JPEG format, videos as AVI files.
Intelligent flight modes
The Holy Stone HS110G has three different flight modes to help you capture video. First, there's Follow Me mode, in which the drone follows you wherever you go while simultaneously recording video.
Point of Interest (POI) mode allows you to select a specific point in the landscape, which the HS110G then circles independently while simultaneously capturing video.
Waypoint Navigation (Tap-fly) allows you to draw a custom flight path in the app, which the drone will then fly autonomously.
Scope of delivery
1 x HS110G drone
4 x extra propellers
1 x USB charging cable
1 x Remote control (with smartphone holder)
2 x landing gear
1 x 3,7 V 1500 mAh battery
6 x screws for propeller (with screwdriver)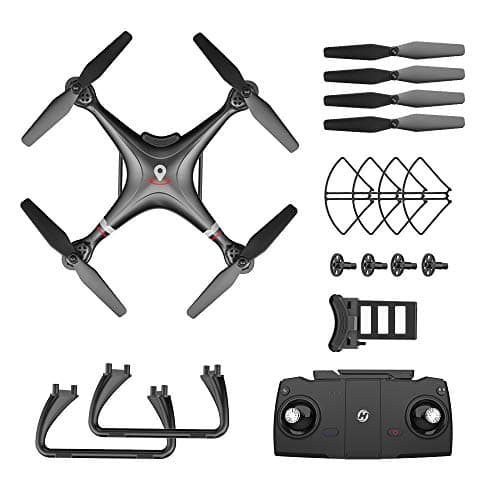 Conclusion
The Holy Stone HS110G is an extremely affordable GPS camera drone with about 13 minutes of flight time and the ability to broadcast live FPV images. Weighing only 176 grams, the HS110G is a great drone for beginners and delivers usable video at a small price thanks to its Full HD camera.
Equipped with Return-to-Home in case of low battery or signal loss as well as an emergency landing button, the drone fulfills several basic safety functions. However, the drone unfortunately does not have rotor protection. Therefore, we cannot unreservedly recommend it as a drone for children. Other models with propeller protection, such as the Jamara Skip 3D quadcopter, are more suitable here.
With Follow Me, Waypoint Navigation and Point of Interest, there are three automatic flight modes available to help you record videos. However, a microSD card (max. 32 GB) is still needed to record and save videos in Full HD. Without a memory card, videos are only recorded in 720p and stored directly on the smartphone.
All in all, the Holy Stone HS110G is an excellent entry-level drone with camera at a low price, which we can highly recommend, especially to drone novices!