Holy Stone HS210 – Rugged mini drone for kids
The Holy Stone HS210 is a compact mini drone and is ideal for flights in your own four walls or even in the garden. The robust mini quadcopter comes with three batteries and offers up to 21 minutes of flying fun!
Design and weight
The Holy Stone HS210 is available in red, green or blue and comes with three batteries. Since the drone measures just 8 x 8 x 3 cm, has a sturdy propeller guard and weighs only 22.5 grams, it is also suitable without hesitation as a drone for kids from about 6 years.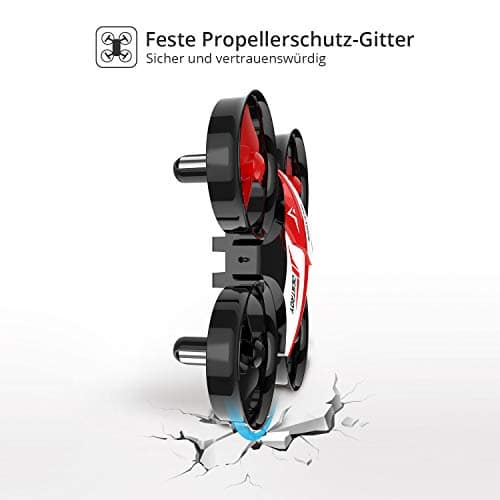 Flight time & range of Holy Stone HS210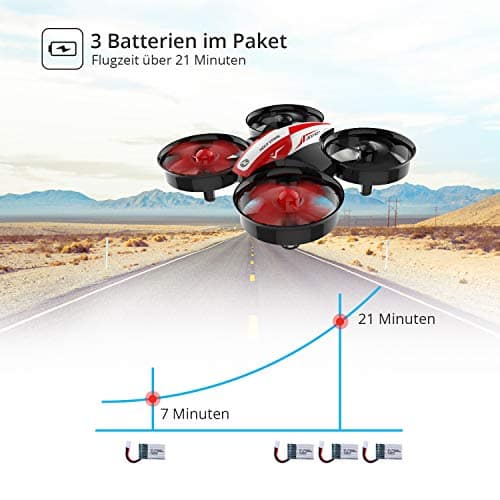 The flight time of the Holy Stone HS210 is approximately 7 minutes – per battery. In total, you can enjoy up to 21 minutes of flight time with the three batteries before the 220 mAh, 3.7 V LiPos (lithium polymer batteries) need to be recharged. A charge takes about 30 to 60 minutes via the included USB charging cable, depending on the power adapter used.
Approximately 1 minute before the drone battery is empty, the LEDs on the drone will start flashing and the remote control will beep. This is to ensure that you can safely land the drone before the battery is fully discharged.
The range is about 55 yards (50 meters). Since the drone is mainly intended for indoor use, this should be more than enough. When flying outdoors, you should make sure that the conditions are as windless as possible, as the drone can easily drift due to its light weight.
Features & flight characteristics
In addition to the two joysticks for controlling the drone, the remote control of the Holy Stone HS210 has a few more function buttons. Taking off and landing, for example, works quite easily with the automatic start/landing button.
With the speed switch button on the top left of the controller, you can switch between the three different speeds.
To perform flips with the drone in different directions, simply press the Flip button (top right) and then move the right joystick in any direction.
If you press both shoulder buttons at the same time, the motors will turn off instantly. This emergency stop function can be extremely helpful in some situations, for example to prevent a collision.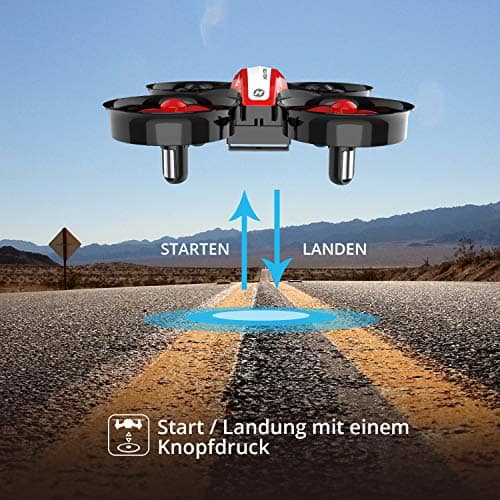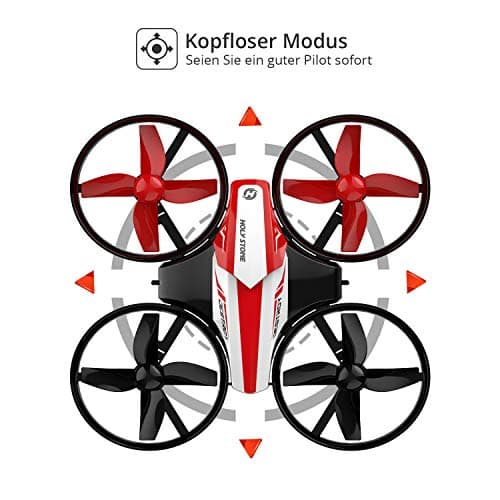 Especially drone novices will be happy about the so-called Headless mode. If you activate this function, you have a simplified control of the drone at your disposal. If you normally have to pay attention to the drone's orientation when you execute a control command in any direction, this does not matter in Headless mode. The drone will always fly in the desired direction, regardless of whether the front or tail is pointing straight at you.
However, we recommend that you do not fly in Headless mode for too long, as by far not all drones have such a mode.
Three AAA batteries are still needed to operate the remote control.
Scope of delivery
1 x Holy Stone HS210
1 x controller
3 x 220 mAh, 2.7 V LiPo battery
2 x USB charging cable
4 x extra propellers
1 x screwdriver
1 x manual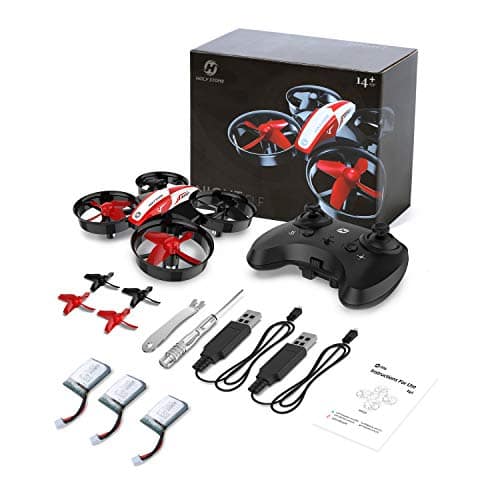 Conclusion
The Holy Stone HS210 is a robust mini drone with three batteries and a total of up to 21 minutes of flight time. The mini quadcopter is child's play to operate and is simply huge fun.
Thanks to its low weight (22.5 g), compact dimensions (8 x 8 x 3 cm) and all-round propeller protection, the quadcopter is also suitable for children from about 6 years of age without hesitation.
The drone is capable of 360° flips, has a Headless mode and can be controlled within a radius of about 55 yards (50 meters). We think the Holy Stone HS210 is an excellent mini drone with good features at an extremely fair price!