Holy Stone HS230 (Mercury 3) – Cheap FPV Racing Drone
The Holy Stone HS230 (Mecury 3) is an affordable FPV racing drone for beginners. The compact quadcopter has powerful motors and an HD camera for viewing the live image of the drone on the LCD screen of the remote control. The drone comes with two batteries for a total of up to 20 minutes of flight time.
Design and weight
The relatively quiet Holy Stone HS230, which weighs only 116 grams, has four rotors and is relatively compact with a diameter of about 22 cm.
In terms of color, the Mecury 3, as it is also called, comes mainly in black. Below the four brushed motors are small landing feet that protect the drone when landing on uneven terrain.
Unlike many other camera drones, you don't need a smartphone to view the camera image; instead, you can view the image on the controller's built-in LCD monitor.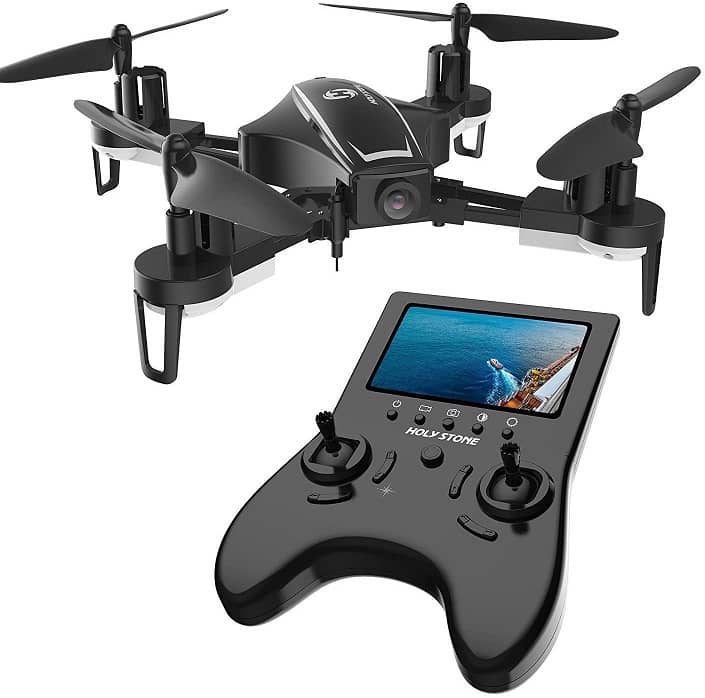 Features and flight characteristics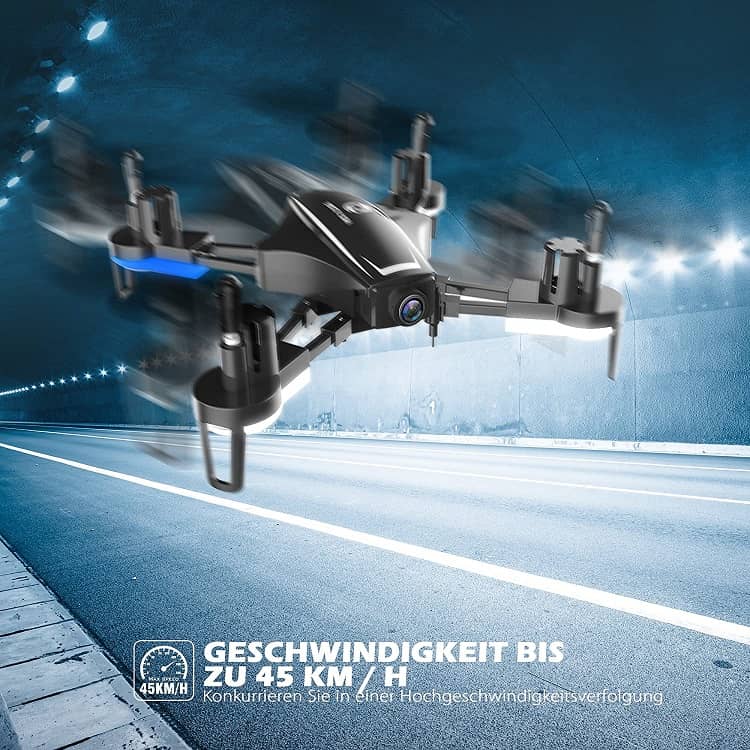 The Holy Stone HS230 can be flown at three different speeds. At the peak, up to 28 mph (45 km/h) are possible. So you can slowly get used to handling the drone. Thanks to the powerful brushed motors, it responds extremely directly to control commands and comes up even against moderate wind.
The small FPV racing drone has high acceleration and can fly extremely tight turns. It has very agile flight characteristics and allows for quick direction changes.
It does not have GPS, but it automatically maintains the current altitude and even has a headless mode, which will be especially pleasing for drone novices.
Activating the Headless mode provides simplified control of the drone. While this feature is not common in FPV racing, it can be very helpful for first flight attempts. Normally, you always have to pay attention to which direction the front or rear of the drone is pointing when you execute control commands in one direction. In Headless mode, this is not necessary and the drone will always fly in the direction you want it to go.
However, when controlling the drone with the help of the live image on the screen, the use of the Headless mode is actually not necessary at all, since you control the drone as if you were sitting in the cockpit yourself.
Flight time and range
The flight time of the Holy Stone HS230 is about 8 to 10 minutes per battery. Since the drone comes with two batteries, you can enjoy a total of up to 20 minutes of flight time before the two batteries (750 mAh) need to be recharged via the included USB charging cable.
By the way, the drone warns you of a low battery level with flashing LEDs on the bottom, so there is still enough time to land safely.
The control range is about 87 to 110 yards (80 to 100 meters). That doesn't sound like much at first, but it's a good value for such an inexpensive FPV racing drone. You have to remember that the Holy Stone HS230 is an entry-level model. If you enjoy FPV racing, you'll switch to building your own FPV racer later on anyway.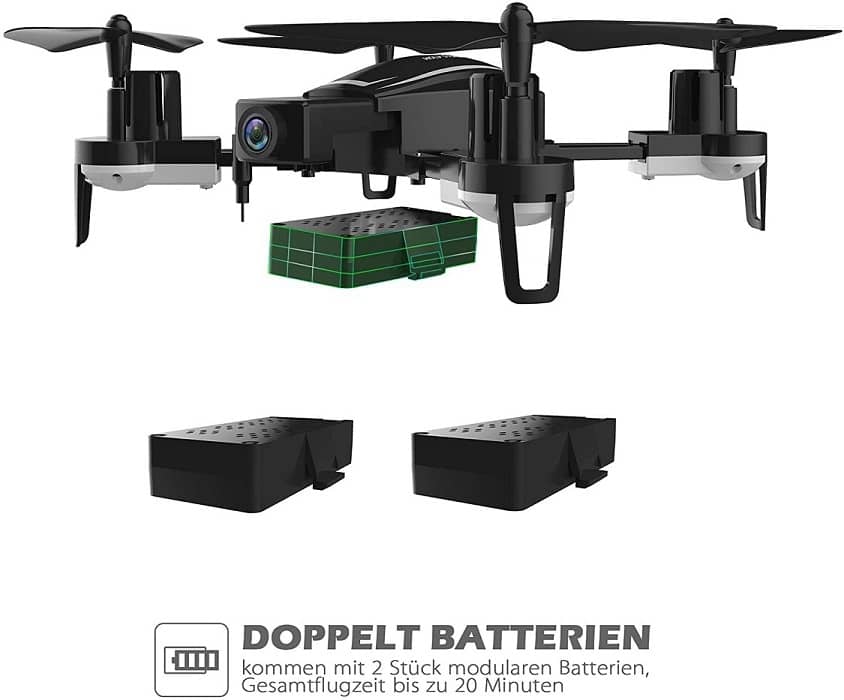 The remote control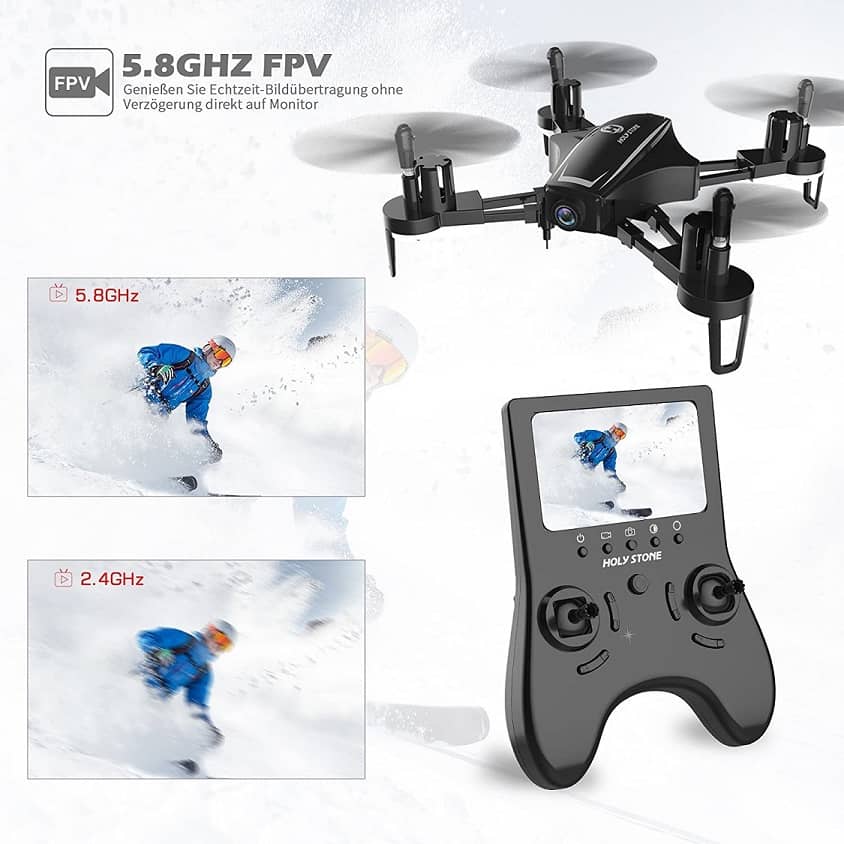 The remote control of the Holy Stone HS230 (Mercury 3) has a built-in LCD screen whose brightness can be adjusted at the touch of a button. Unlike many other drones with image transmission, this multicopter uses the 5.8 GHz frequency, which allows for better signal transmission in the visual range.
The controller features easy-to-reach buttons for triggering photo and video capture, as well as switching to headless mode. Automatic flips and rolls can be triggered by pressing the right control joystick.
Since the Holy Stone HS230 has a fail-safe mode, it will automatically land if the signal to the controller is interrupted. However, we always recommend you to land independently before the battery is completely discharged.
We really like the fact that no extra batteries are needed to operate the remote controller. The controller has its own battery that lasts about 30 to 50 minutes before it needs to be recharged.
The camera of the Holy Stone HS230
The built-in camera of the Holy Stone HS230 is a 120° wide-angle HD camera (720p). The camera is not adjustable, but can be removed if necessary.
The maximum video bitrate is 25Mbps, which is sufficient for a stable video feed. Your photo and video recordings are stored on a microSD card of up to 32GB, which can be inserted directly into the camera. The scope of delivery already includes a 4 GB memory card, which is completely sufficient for starters.
Scope of delivery
1 x Holy Stone HS230
1 x controller
2 x 3,7 V, 750 mAh LiPo-battery
1 x 3.7 V, 380 mAh LiPo battery for remote controller
8 x spare propellers
4 x propeller cap
1 x 4 GB microSD card
1 x card reader
2 x USB charging cable for drone battery
1 x USB charging cable for controller
1 x screwdriver
1 x instruction manual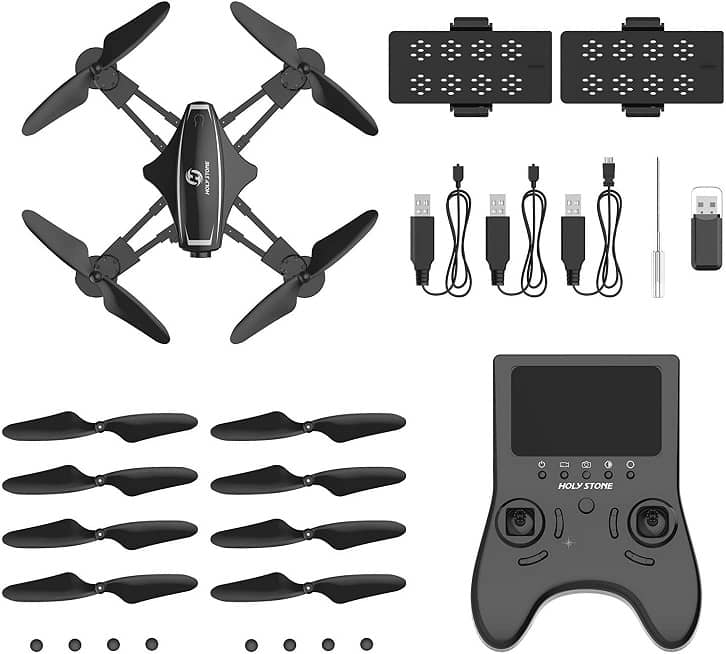 Conclusion
The Holy Stone HS230 (Mercury 3) is an excellent FPV racing drone for beginners who want to gain their first experience with racing drones. It is a very agile quadcopter, with which rapid flight maneuvers in confined spaces are possible.
You can view the live image of the drone in real time on the bright LCD screen of the controller, so there is no need to use your own smartphone. Image transmission is done via 5.8 GHz frequency, which provides a stable video signal within a radius of up to 110 yards (100 meters).
Featuring two batteries at once, you can get up to 20 minutes of flight. The controller also has a rechargeable battery, so no extra batteries are needed.
All in all, the Holy Stone HS230 is an excellent FPV drone for first experiences in the field of drone racing and highly recommended for all interested parties!