Hubsan Zino Pro – foldable 4K drone for beginners
The Hubsan Zino Pro is a foldable quadcopter with a 4K camera and a mechanical 3-axis gimbal. How the relatively inexpensive drone compares with other current top drones, we clarify in our detailed product review.
Zino Pro 4K: Price, weight & flight time
With a price of just under 500 dollars, the Hubsan Zino Pro 4K is cheaper than many current drones with cameras from other manufacturers. In terms of price, it is roughly in the range of a Xiaomi FIMI X8 SE or DJI Mavic Mini.
When folded, the Zino Pro measures 18.7 x 10.4 x 9 cm; when unfolded, it measures 30.5 x 25.5 x 9 cm. With a take-off weight of about 700 grams, it is still relatively light, but weighs significantly more than 250 grams and therefore, depending on where you live, may requires both a drone sticker and drone liability insurance to operate.
The 11.4 V, 3000 mAh 3S LiPo of the Hubsan Zino Pro 4K is sufficient for up to 23 minutes of flight time (under optimal conditions). In practice, however, 19 to 20 minutes is realistic – if only because you should never discharge a LiPo battery below 5% if possible. The battery is charged in about 180 minutes using the included charger.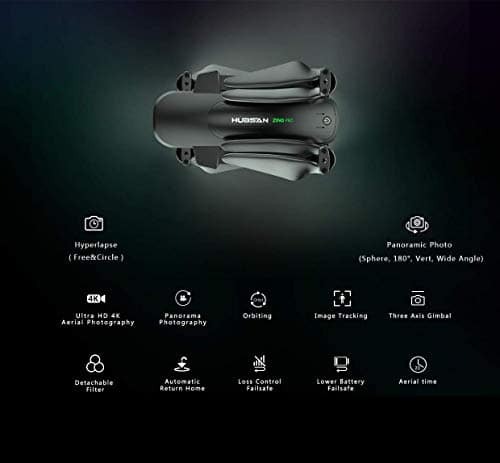 More range than the Hubsan Zino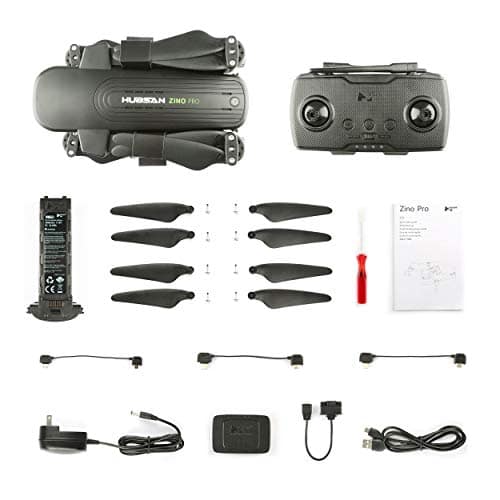 The biggest difference of the Hubsan Zino Pro compared to the predecessor version is the possible maximum range. While a maximum of 0.62 miles (1000 meters) was possible with the first Zino, the successor can now be controlled up to distances of approx. 2.48 miles (4000 meters).
Please note, however, that drones in many countries may only be flown on sight! Nevertheless, a high maximum range of the RC signal is always advantageous, as it has a positive effect on the general signal quality and thus ensures a more stable connection between the drone and the remote control.
The top speed of the Hubsan Zino Pro is 20 mph or 9 m/s (32.4 km/h). This is slightly slower than the DJI Mavic Mini (29.2 mph or 47 km/h) and only half as fast as the Xiaomi FIMI X8 SE (39.8 mph or 64 km/h). It is not the fastest drone, but such high speeds are not suitable for taking photos and videos anyway. On the other hand, if you are primarily looking for a fast drone, you should take a look at the FPV racing drones section.
Thanks to GPS and GLONASS, the Hubsan Zino Pro can always rely on enough satellites to determine its position. Once in the air, the drone thus always holds its position exactly without drifting. Some intelligent flight modes also use the GPS coordinates to let the drone return safely to the takeoff position or drone landing site (return-to-home) at the push of a button, for example.
The foldable drone can also return home safely on its own if the battery level is too low or if the signal between the drone and the remote control fails (fail-safe mode).
Unfortunately, the Zino Pro does not have sensors for collision avoidance, such as those found on the DJI Mavic Air. However, this is not necessarily to be expected in this price range and should therefore not be rated negatively in our opinion.
The camera
The 4K camera of the Hubsan Zino Pro has a 1/3-inch CMOS sensor from Sony that records videos in up to 3840 x 2160 pixels and photos in up to 12 megapixels. Strictly speaking, this is not a "true" 4K camera, but a UHD or 4K UHD camera. True 4K has a resolution of 4096 x 2160 pixels. However, the difference between the two resolutions is marginal.
The camera is stabilized by a mechanical three-axis gimbal that prevents annoying jerking in video recordings and ensures blur-free recordings.
The camera's wide-angle lens has a FOV of 79.8 ± 3°, a focal length of 24-48 mm and an aperture of f/2.2. The camera's ISO range covers the range from 100 to 3200.
The bit rate of 60 Mbps ensures high-quality videos, although the Mavic Air and FIMI X8 SE are just ahead here with 100 Mbps each. Videos are stored in MP4/MOV (H.264 / MPEG-4 AVC) on a microSD card of up to 128 GB (not included).
Video resolutions
4K (3840 x 2160 Pixel) @ 30 fps
2,7K (2704 x 1520 @ 30 fps
1080p (1920 x 1080) @ 30/60 fps
720p (1280 x 729) @ 30/60/120 fps
The Zino Pro takes photos in JPEG format with a maximum of 12 MP. Landscape photographers will certainly be happy about the four panorama modes Spherical, 180°, Vertical and Wide Angle. For video recordings, a 360° panorama is also available.
A special highlight is the possibility to attach different ND filters to the camera. You can choose between ND4, ND8, ND16 and ND32, which are optionally available.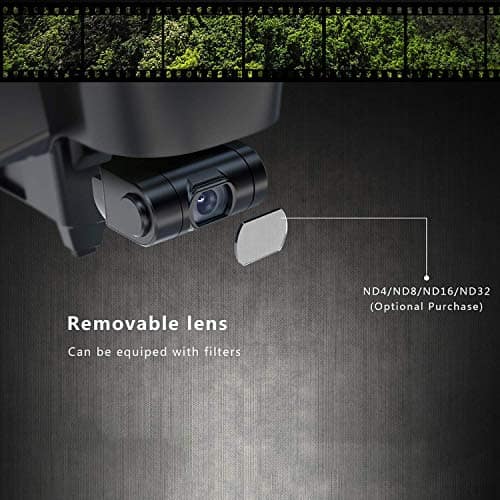 Intelligent flight modes
The Zino Pro also has a lot to offer in terms of intelligent flight modes. For example, the drone has a Follow Me function, in which an object or person can be marked and tracked. There is also an orbit mode, in which the copter automatically draws circles of different sizes around the pilot and records a video.
Other automatic flight modes include line-fly mode (similar to DJI's TapFly), an automatic altitude hold mode, a headless mode, and a waypoint mode. The different modes give free rein to your own creativity when flying and filming and let you make interesting recordings.
Remote control HT016B
The remote control is robust and functional. The smartphone holder is located on the bottom and accommodates devices up to 16 cm long and 8.5 mm thick. However, the mechanism, just like the two control joysticks, could have been manufactured a bit higher quality. The two joysticks are made of plastic and not metal, as you are used to from high-quality drones.
Smartphone and controller are connected via microUSB cable. The X-Hubsan app, which is available for Android as well as iOS, is available for free and can be operated intuitively. Incidentally, Mode 1 and Mode 2 can be selected for controlling the drone.
The 3.7 V, 2600 mAh LiPo lasts much longer than the battery of the drone and is charged via microUSB cable in about 2 hours.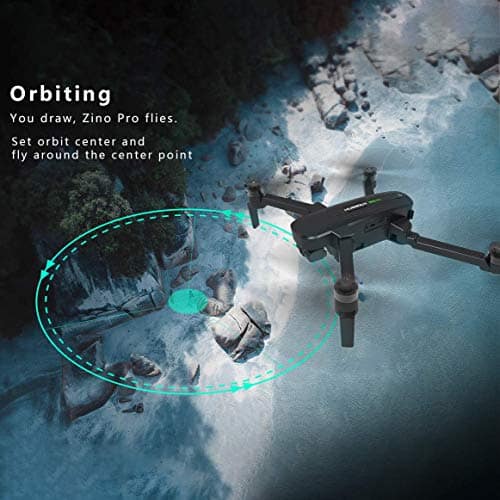 Scope of delivery
1 x Hubsan Zino Pro drone
1 x HT016B remote control
1 x LiPo battery
1 x microUSB cable
1 x Lightning cable
1 x USB-C cable
4 x spare propellers
1 x charging cable and power adapter
1 x screwdriver
1 x instruction manual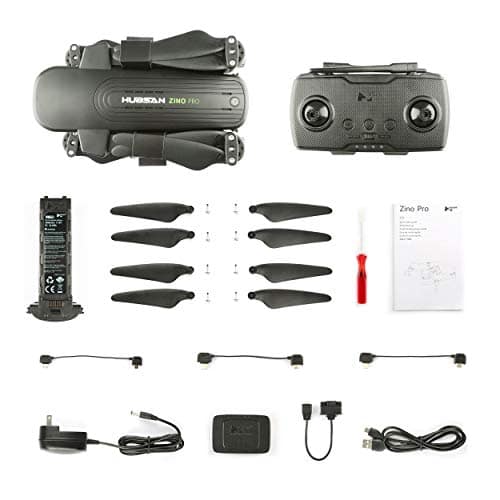 Conclusion
The Hubsan Zino Pro is an affordable 4K drone with a mechanical 3-axis gimbal, about 20 minutes of flight time and a maximum range of up to 2.48 miles (4000 meters). Recorded videos are of very high quality thanks to a 1/3-inch sensor and a bitrate of 60 Mbit/s, and the photos in 12 MP are also impressive.
Premium features like obstacle detection are missing, but that is not to be expected for a price of less than 500 dollars and is not a negative point in our eyes. We do not like the long charging time of the battery as much as the build quality, which still needs some improvement in some areas. All in all, the Hubsan Zino Pro is a very successful drone and highly recommended, especially for beginners.