JJRC H8D | For first FPV experiences
The JJRC H8D quadcopter offers a solid feature set and convinces with good flight characteristics at a fair price. The copter is suitable for both beginners and advanced pilots and is designed for outdoor use. A 6-axis gyro provides sufficient stability and the integrated 2 MP camera delivers very decent pictures for this price range.
Technical data
The JJRC H8D comes together with a remote control with LCD monitor. So you always have the live image of the camera in front of your eyes and you can see the world from the drone's point of view. The included 500 mAh battery allows flight times of just under 10 minutes. To double the flight time, it is recommended to purchase a spare battery.
A little tip: Wait a few minutes before inserting the next "full" battery into the H8D so that the motors can cool down a bit.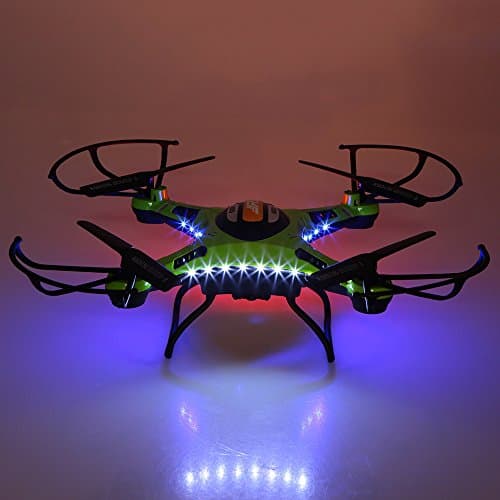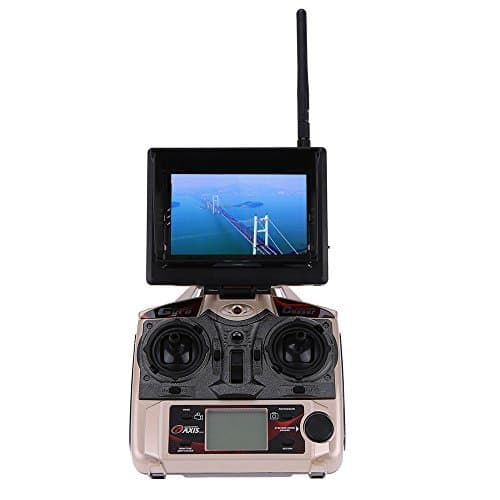 The range of the JJRC H8D is about 330 yards (300 m), allowing for extended reconnaissance flights. Due to the low weight of the drone, flights in strong winds should be avoided. While the copter itself is controlled via 2.4 GHz frequency, the image transmission of the integrated camera takes place on the 5.8 GHz frequency. The resulting recordings can be stored on the included 2 GB SD card.
A highlight of the JJRC H8D quadcopter is certainly the so-called "Headless mode". This simplifies the control of the drone, especially for beginners, as the copter always maneuvers in the desired direction when moving the control stick, regardless of which part of the drone is currently pointing in the direction of flight. This feature facilitates the control immensely in the beginning.
To make the copter easy to see even in the dark, it has several LEDs for positioning.
The JJRC H8D is an excellent drone with camera for beginners and is ideally suited for entry into the drone hobby. Good flight characteristics, integrated camera, FPV monitor in the remote control and Headless mode – you get all this at an attractive price.
An interesting alternative to the H8D from JJRC: Parrot Bebop 2 Drone
Features
JJRC H8D
Frequency: 2.4 GHz
Channels: 4
Gyro: 6-axis
Flight time: 8 minutes
Range: 330 yards (300 m)
Charging time: 110 min
Battery for quadcopter: 7.4 V, 500 mAh (included)
Battery for remote control: 4 x 1.5 V AA battery (not included)
Size battery: 43 x 25 x 12 mm
Size quadcopter : 330 x 330 x 115 mm
Weight quadcopter : 23 g
Scope of delivery
1 x JJRC H8D RC Quadcopter
1 x remote control
1 x FPV LCD screen
1 x 2 MP camera
1 x 7.4 V, 500 mAh LiPo battery
2 x Pair of spare propellers
1 x Charging cable
1 x screwdriver
1 x SD card reader
1 x 2 GB SD card
1 x user manual