The Parrot Bebop Drone with integrated Full HD camera not only convinces with its inner values. The housing of the Bebop, made of fiberglass-reinforced ABS (plastic), is not only extremely light and stable, but also the design of the drone stands out from many other quadcopters.
The Bebop has a fisheye camera with which you can shoot videos in 1080p and photos in 14 MP. The angle of the lens used is 186°. A 3-axis image stabilization system ensures shake-free recordings, which keeps the recording angle of the Parrot Bebop Drone constant even during fast movements and turbulence. To make sure you get the most out of your Bebop for a long time, we recommend purchasing a suitable transport backpack or carrying case.
++ NEW: Parrot Bebop Drone 2 ++
The control of the Parrot Bebop Drone
The Parrot Bebop is controlled via smartphone or tablet with the help of the so-called Freeflight 3 app (available for iOS and Android), which can be downloaded from the manufacturer's website. Those who prefer to hold a remote control in their hands should reach for the Bebop with Skycontroller (can be selected on the Amazon page).
The Skycontroller offers the possibility to control the drone with two joysticks. Alternatively, however, a smartphone or tablet can be docked. In addition, the Skycontroller increases the range of the Parrot Bebop from about 275 yards (250 m) to about 1 to 1.25 miles or 1.5 – 2 km (Please note that drones in many countries may only be operated within visual range). The flight time of the drone is stated to be 11 minutes. We recommend purchasing spare batteries to be able to replace an empty battery immediately on site.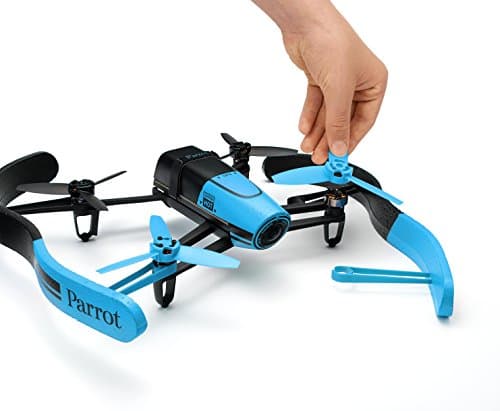 Technical data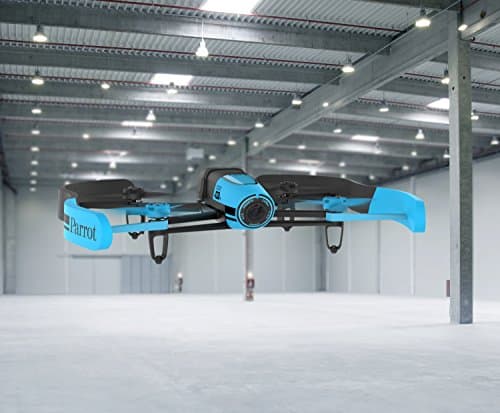 In addition to a 3-axis gyro, the Parrot Bebop has other sensors and modules (GPS) that provide the necessary stability of the drone. In addition to accelerometers and magnetometers, the Bebop also uses pressure sensors and a vertical camera to measure the speed in flight. Photos and videos are stored by the drone on an internal 8 GB flash memory. A powerful on-board computer with quad-core graphics processor ensures fast processing of all signals from the various sensors.
The Parrot Bebop also has two dual-band antennas that can manage a 2.4 GHz and a 5.8 GHz frequency. The copter thus creates its own network via the Wi-Fi standard 802.11. Parrot has also thought of everything when it comes to safety. If the Bebop collides with an object, its rotors automatically come to a stop. If something unforeseen should happen, an emergency mode helps with a safe landing in an emergency. A Retrun to Home mode is also available for a comfortable and safe flight home.
Parrot Bebop Drone Highlights
14 megapixel fisheye camera video recording in HD 1080p and instant sharing
180 degree field of view on your smartphone and tablet
Live video streaming to your smartphone or tablet
3-axis image stabilization system
Accelerometer, gyroscope, magnetometer ultrasonic sensor with a range of 16 ft (5 m)
Free app: FreeFlight 3 (for iOS, Android, Windows 8.1)
Color: Red
Weight: 380 g without fairing – 400 g with fairing
Dual Core Processor with Quad Core GPU
8 GB flash memory
Connection to the Parrot Cloud to store all your flights and share photos, videos and navigation data
Wi-Fi 802.11a/b/g/n/ac
Wi-Fi antennas: MIMO bi-band with 2 dual antennas designed for 2.4 and 5 GHz frequency bands
Transmit power: up to 21 dBm
Signal range: up to 330 yards (300 meters)
4 brushless outrunner motors With fiberglass (15%)
Reinforced ABS structure
Propeller fairing made of highly resistant PPE
Video: Camera with fisheye lens 180 degrees; 1/2.3 inch sensor
Conclusion
The Parrot Bebob Drone is full of technology, offers a very good Fischeye camera for recordings in HD format and convinces with stable flight behavior. If the 275 yards (250 m) range is not enough or if you value real control sticks, you should go for the Parrot Bebop with Skycontroller. However, the controller has its price, and you can already get drones in the professional segment for similar money. If you don't mind the app control, you get a chic camera drone with good equipment and an excellent camera for great shots and lots of fun outdoors!