Parrot Mambo – toy drone for young and old
The Parrot Mambo is a mini quadcopter with an enormous fun factor. Equipped with a camera as well as an attachable gripper arm and a mini cannon, it guarantees flying and playing fun for young and old. In contrast to the popular Bebop 2 or the innovative Disco Drone, the French drone manufacturer Parrot now delivers with the Mambo a pure toy drone with enormous fun factor at a small price.
Parrot Mambo – a mini drone that inspires
The Mambo is extremely compact, lightweight and is operated via smartphone app. The toy drone is perfect for beginners and anyone looking for a fun gadget for friends or leisure. The Parrot Mambo weighs only 63 grams and measures 18 x 18 cm. The design and build quality are definitely high for this price range and the attachable gimmicks are huge fun.
The battery of the Parrot Mambo allows a flight duration of up to 9 minutes. Depending on which attachments you install, the flight time can be reduced by a minute or two. When controlling the drone via smartphone, the range is about 22 yards (20 meters). If that is not enough, you can buy the Parrot FlyPad, which costs about 40 dollars and increases the range to 66 yards (60 meters).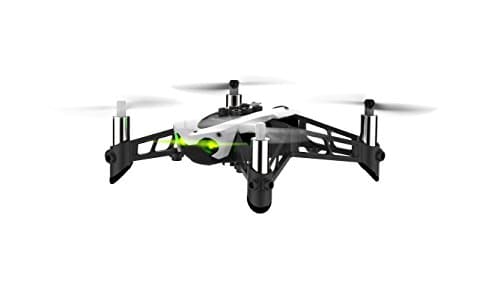 Features and specialties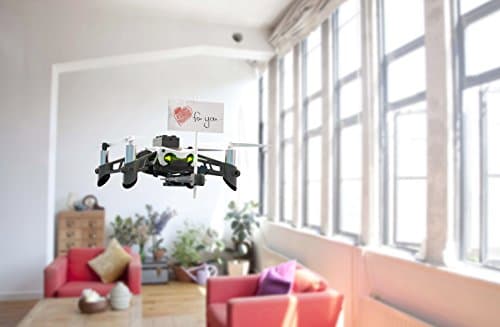 In addition to a small note clip for transporting messages, you can also attach a gripper arm and a mini cannon to the outside of the Parrot Mambo. The gripper arm, which can be controlled via app, can be used to transport small objects weighing up to four grams and drop them if desired.
For example, try picking up a piece of sugar cube and dropping it into a cup of coffee! With a little ingenuity, you can also create your own skill course to improve your flying skills or compete against other pilots in fun competitions. However, you should bring a steady hand and some skill for this.
The small cannon can be filled with six plastic balls and fires its ammunition on command about two meters away. The whole thing isn't really dangerous, but it's a lot of fun.
Unlike many other mini drones, the Parrot Mambo has a small camera. Admittedly, the camera's performance is quite minimalistic – but that is also due to the fact that a mini drone naturally cannot carry the weight that a really good camera would come with. With just 300,000 pixels, the camera has a moderate image quality, but it is certainly a nice extra. On the front of the Parrot Mambo are two green LEDs that glow brightly when the device is on. This gives the impression that the drone is looking at you from big green eyes.
Latest sensor technology for stable flying
In addition to a classic 3-axis gyroscope, the Parrot Mambo also features a pressure sensor, an ultrasonic sensor and a camera sensor. Together, the sensors provide excellent flight stability and keep the drone steady in the air. For this price range, the Parrot Mambo really has a lot of technology.
How to control the Parrot Mambo
Within the free "FreeFlight" app, you have two virtual control sticks at your disposal and photos as well as the attachable gadgets can also be triggered via finger pressure. This is not quite easy at first, but quite intuitive after a while. The take-off and landing function is also extremely practical, allowing the drone to take off or land safely at the touch of a button.
For those who prefer a real remote control, Parrot has an alternative to app control in the form of the FlyPad. The FlyPad also increases the range of the Parrot Mambo from 22 to 66 yards (20 to 60 meters). This is due to the fact that the connection does not work via Bluetooth, unlike the smartphone, but via radio.
By the way, the Parrot Mambo can do a lot more when it comes to delicate aerobatics. Most multicopters can fly forwards and backwards. Rapid turns, loops in both directions and a takeoff from the palm of your hand, as if controlled by a ghost hand – these are the special features that you can discover with the Parrot Mambo after the purchase.
Scope of delivery
The drone itself
A mini cannon
A gripper arm
One note clip
1 USB cable with a USB charger
50 cannonballs
A quick start guide
Parrot offers a wide range of accessories and spare parts. From replacement propellers to motors, you can actually buy everything important for the Parrot Mambo.
The most important data at a glance
Weight: 63 g
Flight duration: 8 – 9 min
Range: 22 to 66 yards (20 – 60 m)
Dimensions: 18 x 18 cm
Camera: On-board, 300.000 px
FreeFlight app: free of charge
Conclusion
The Parrot Mambo is a toy drone with a huge fun factor. Equipped with a gripper arm, mini cannon and note clip, it gives free rein to creativity and is the perfect fun drone for young and old. The mini drone has a small camera and the control via FreeFlight app is easy to learn. The optionally available FlyPad is also available for more range.
If you are looking for a beginner drone with good quality or a fun gift for friends and acquaintances, the small Parrot Mambo is definitely the right choice!