Ruko U11 Pro – Excellent entry-level GPS drone with 4K camera
The Ruko U11 Pro is a foldable GPS drone for beginners that takes photos in 4K and videos in 2K. It has a long flight time (approx. 23 min. per battery), a good range (up to 550 yards or 500 meters) and transmits the live image of the camera approx. 330 to 550 yards (300 to 500 meters) away.
Design and weight
Externally, the Ruko U11 Pro comes in all black. The build quality makes a very good and robust impression. When folded, the camera drone measures 15 x 10 x 6 cm. With unfolded arms, the drone comes to dimensions of 23 x 26 x 6 cm.
For transport, the U11 Pro can be safely and conveniently stored in the included hard case, which also holds the remote control and other accessories.
With a weight of 278 grams, the Ruko U11 Pro is neither particularly light nor considered too heavy.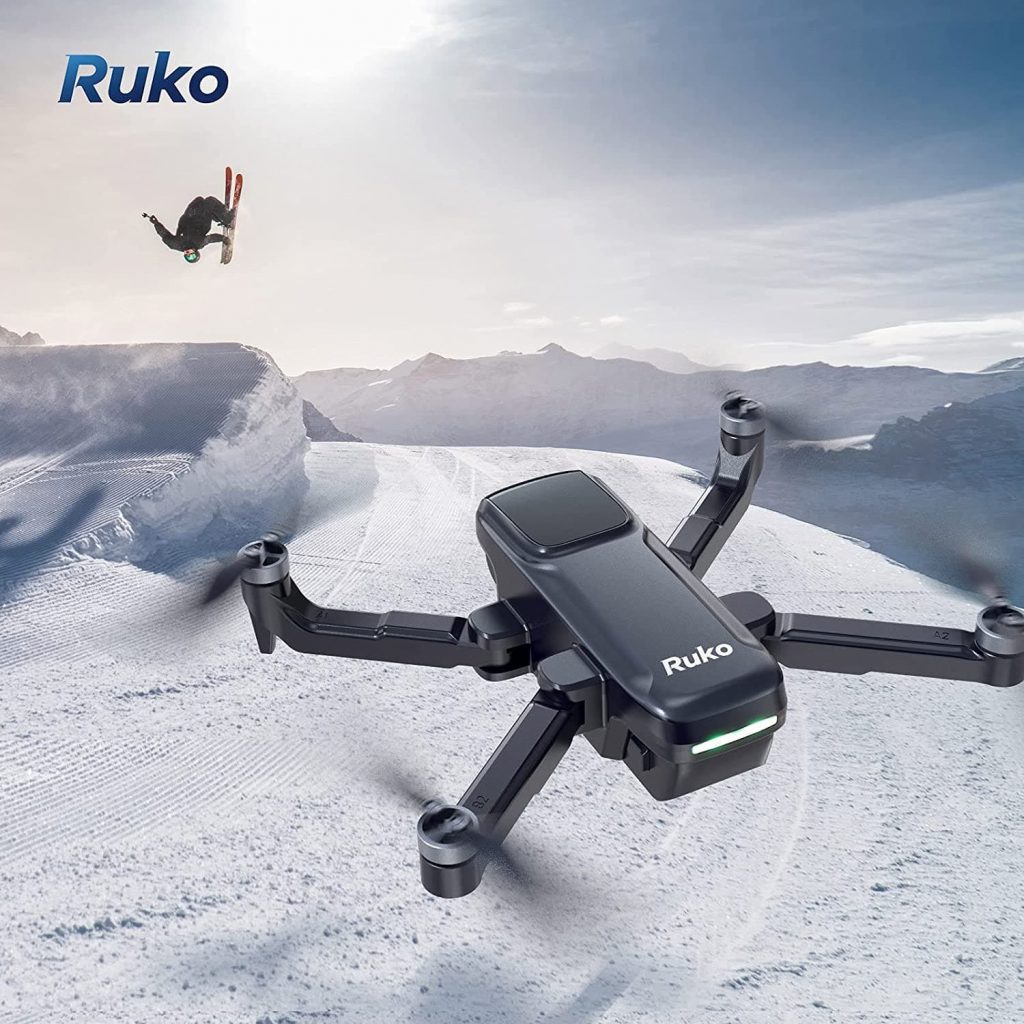 Features and flight characteristics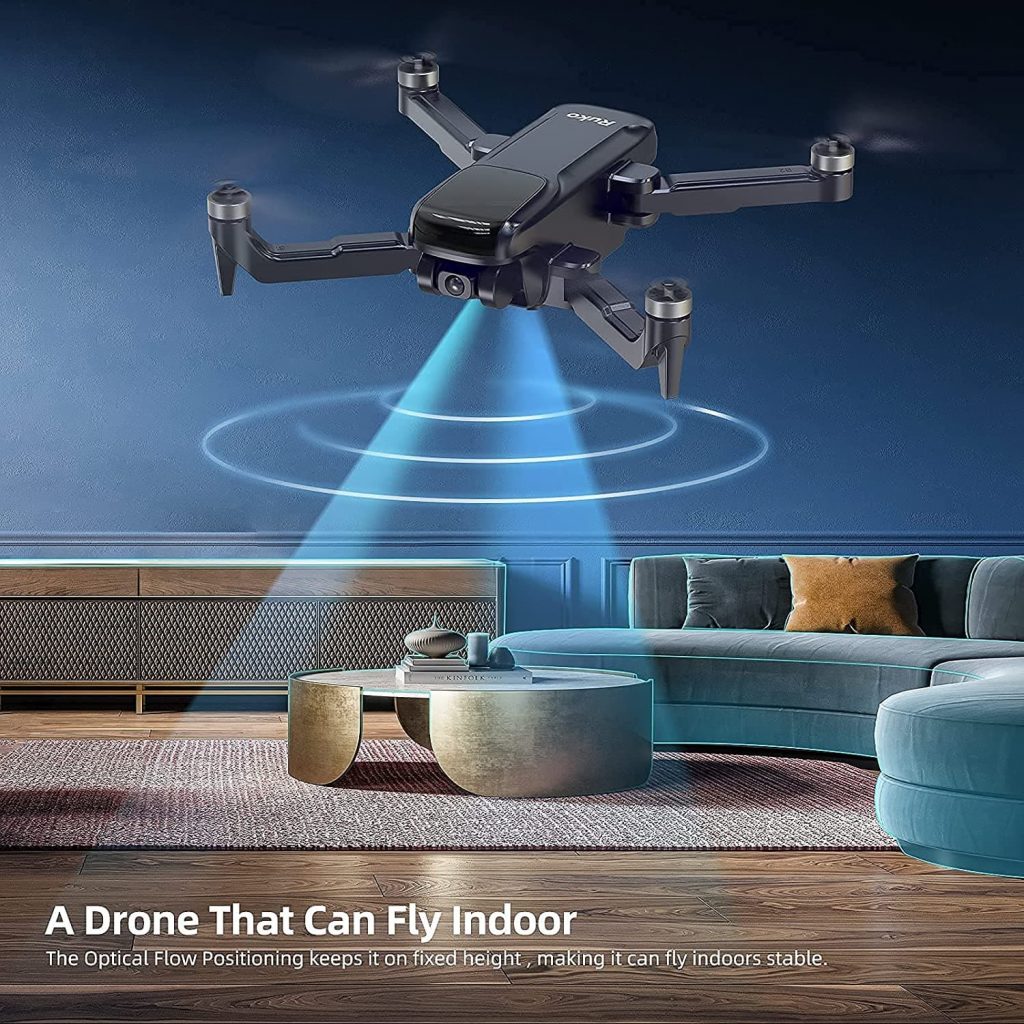 The Ruko U11 Pro has various functions that make the drone easier to use, especially for beginners. For example, takeoff and landing work conveniently at the push of a button. Once in the air, the drone independently maintains the current flight altitude (Altitude hold) without you having to permanently press the thrust control.
During the flight, a total of three different speeds are available for selection, so that you can slowly get used to the control characteristics.
A built-in GPS and GLONASS module ensures the necessary flight stability and positioning accuracy. This is also supported near the ground by an Optical Flow Positioning System, consisting of a ground camera and an internal barometer. Thanks to this module, by the way, you can also fly the Ruko U11 Pro indoors without any problems, where no GPS signal is available.
In general, the Ruko U11 Pro has exceptionally good flight characteristics and can be positioned and controlled with pinpoint accuracy.
The necessary propulsion during flight is provided by the four powerful brushless motors, which are quieter and more durable than the cheaper brushed motors often found in inexpensive drones. According to the manufacturer, the Ruko U11 Pro can withstand wind speeds up to force 5 (29 to 38 km/h).
We really like the fact that the included remote control has a permanently installed battery and thus no additional batteries are needed for operation.
The precise Return to Home mode, which can be triggered via a corresponding button on the remote control, ensures a safe return to the launch position or the drone landing pad.
Flight time and range
The flight time of the Ruko U11 Pro is about 23 minutes – per battery. Since the camera drone comes with two batteries, a total of up to 46 minutes of flight time is possible before the two 7.6 V, 1900 mAh LiPos (lithium polymer batteries) need to be supplied with power again.
For charging, simply connect the two included USB charging cables to the batteries and plug them into a PC, laptop, powerbank, or simply into standard smartphone power adapters. Charging time is approximately 60 to 150 minutes, depending on the power source used.
The control range is approximately 330 to 550 yards (300 to 500 meters). At altitude, up to 120 meters is possible. We recommend that you always fly in an open area without obstacles such as trees or buildings to ensure the most stable signal transmission.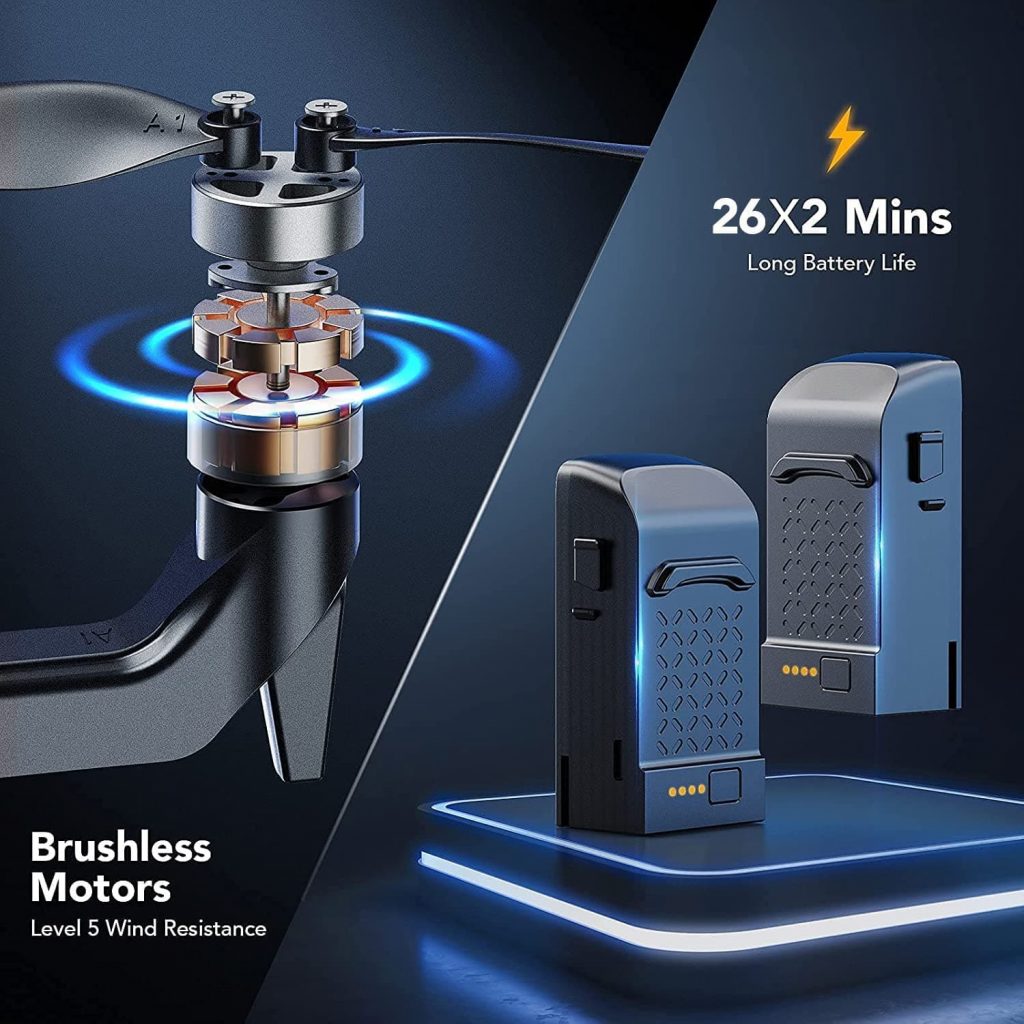 The camera of the Ruko U11 Pro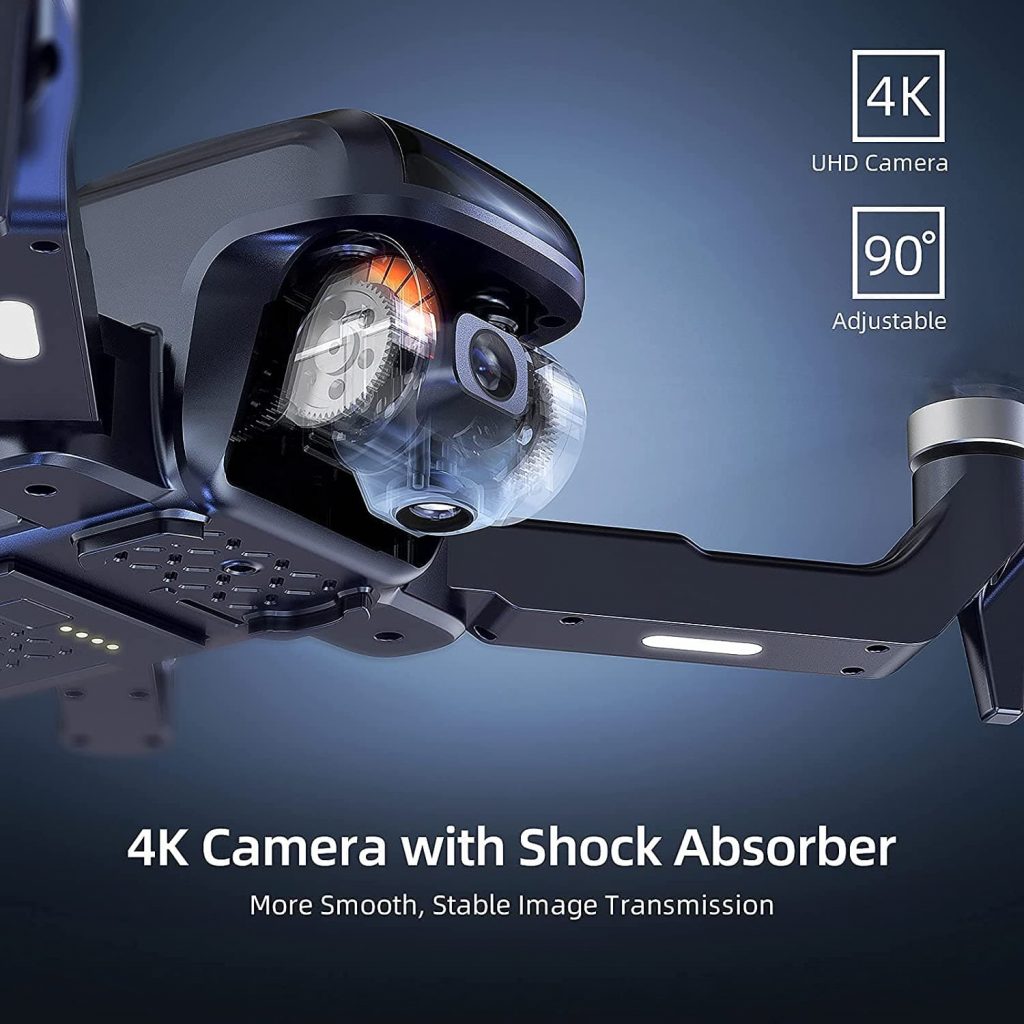 The 4K camera of the Ruko U11 Pro takes photos in 4K (3840 x 2160 pixels) and videos in 2K (2048 x 1152 pixels). The frame rate is 25 fps. Unfortunately, videos are only transferred in a maximum of 7 Mbits/s, which is noticeably reflected in the quality of the recordings.
The camera's field of view (FOV) is 120° and thus wide-angled. The Ruko U11 Pro has a vibration damper to stabilize the recordings, but it is not a full-fledged gimbal. Although video recordings are noticeably stabilized thanks to the damping, a really smooth picture without shaking is not achieved. So, if you want to record first-class videos, you should go for a slightly more expensive drone with a camera.
However, you should not forget that the Ruko U11 Pro is a relatively inexpensive entry-level drone and does not play in the same league as, for example, a DJI Mavic Air 2.
What we like is that the camera can be panned vertically by up to 90° – from horizontal forward to vertical down. This allows you to easily capture different perspectives.
Your recordings are stored either directly on your own smartphone or on a microSD card of up to 32 GB, which, however, is not included.
To view the live FPV image of the drone camera in real time on your smartphone, your mobile device must have dual-band Wi-Fi(2.4 GHz and 5 GHz), as the video signal is transmitted on the 5 GHz frequency. This transmission path promises better picture quality than the 2.4 GHz band, which has its strengths more in the transmission of the control signal. The range of the image transmission is approx. 330 to 550 yards (300 to 500 meters).
Flight modes
Thanks to the built-in GPS module, the Ruko U11 Pro can handle various automatic flight modes. Among other things, the popular Follow Me mode is available, in which the drone can independently follow a person or an object.
Ruko has also given the U11 Pro a Tap Fly mode. In this mode, you can control the drone via touch commands in the smartphone app. Furthermore, a POI mode (Point of Interest) and a Waypoint mode are also available. A special beginner mode can also be activated.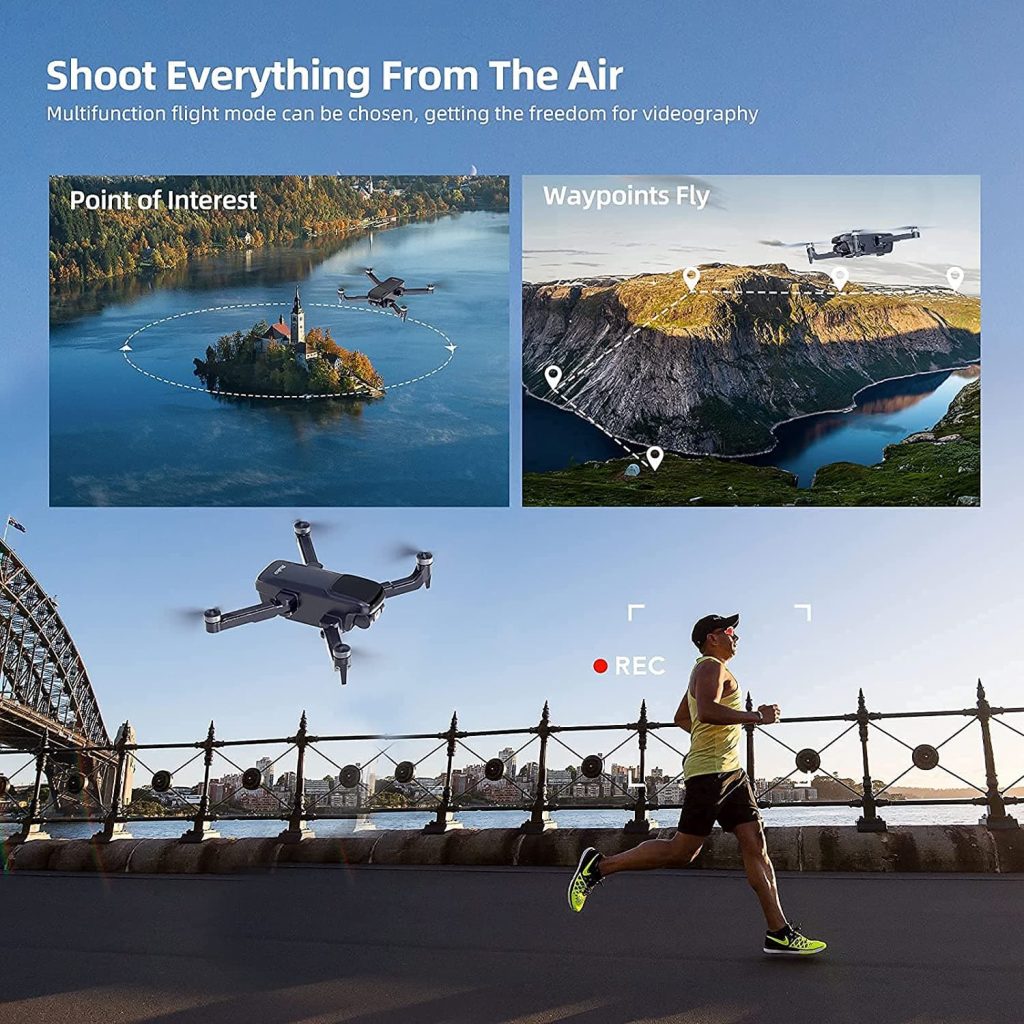 Scope of delivery
1 x U11 Pro drone
2 x Battery (7.4 V, 1900 mAh)
1 x Hard case
1 x Remote control
1 x Screwdriver
2 x USB charging cable
8 x Spare propellers
1 x User manual
Conclusion
The Ruko U11 Pro is an excellent GPS camera drone for beginners, which convinces with good flight characteristics, long flight time and a good camera.
Thanks to two included batteries at once, you can enjoy 23 minutes of flight time twice within a radius of up to 550 yards (500 meters) before the batteries need to be recharged.
The camera of the Ruko U11 Pro takes photos in 4K and videos in 2K. The recordings are stabilized by a built-in vibration damper, but it does not have the same quality as a full-fledged gimbal.
Overall, the Ruko U11 Pro is a very good choice for beginners who don't want to spend a lot of money on their first drone, but are still looking for a decent model to start with.