Sansisco P5 – Camera Quadcopter with 2.7K Camera
The Sansisco P5 is a camera quadcopter with a vibration-damped 2.7K camera and FPV live image transmission. The compact drone features various helpful flight modes and comes with two batteries and a handy backpack.
Classy design and practical backpack
The quadcopter is completely designed in white and has four colored LEDs below the propellers. This allows you to keep a good eye on it in the sky and also easily distinguish the front and back sides.
On the bottom, the Sansisco P5 has two sturdy landing skids to easily land and take off on uneven surfaces.
Propeller guards can be attached around the four rotors if needed, both to protect the drone in case of collisions and to protect bystanders from injuries caused by the fast-spinning propellers.
The black carrying bag, which can also be used as a backpack, offers enough space to safely store the drone and accessories and is a great accessory that is far from being found on every drone.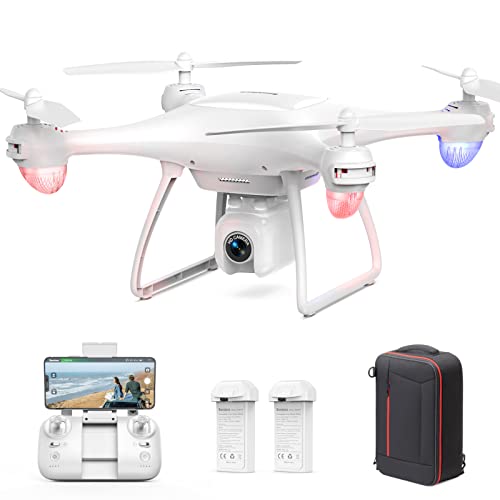 Beginner-friendly controls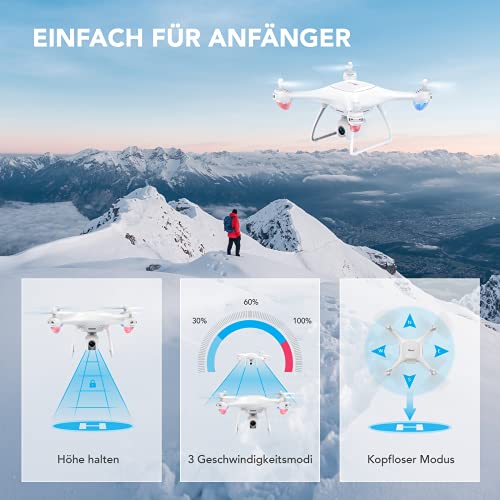 Thanks to helpful features like one-touch takeoff and landing, altitude hold, and three different speeds, the Sansisco P5 is extremely beginner-friendly, making it safe and quick to operate even for absolute beginners.
If you ever lose control of the drone, you can easily bring the four motors to a stop using the emergency stop function. Note, however, that the drone will then instantly fall out of the air.
The Sansisco P5 is controlled either quite classically via the included remote control or just with your own smartphone. For operation via cell phone, however, you first need to download and install the appropriate app. You will also need this to be able to use the FPV live image function.
In general, the Sansisco P5 can be controlled precisely and navigated with pinpoint accuracy. With the controller, you generally have more control over the flight movements than with the smartphone, which is why we recommend this type of control.
Flight time and range of the Sansisco P5
The flight time of the Sansisco P5 is around 20 minutes per battery. This is a very good value, especially for models in this price range. Since the copter comes with two 3.7 V, 1500 mAh batteries at once, you can even enjoy up to 40 minutes of flight time in total before both batteries need to be recharged.
A USB charging cable is included with the drone for charging. A power adapter, as with almost all drones, is not included. Therefore, simply connect the battery and cable to a PC, laptop or powerbank, or connect the charging cable to your smartphone's power adapter.
The control range of the copter is about 220 yards (200 meters). The distance at which you can receive the live image of the drone is about 110 yards (100 meters). Please note that it depends largely on the environmental conditions how far the signal can be transmitted without interference. For best results, fly over wide areas without obstacles such as buildings or trees.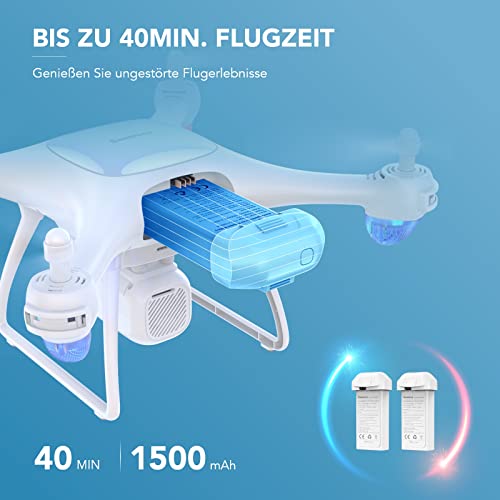 2.7K camera with vibration dampers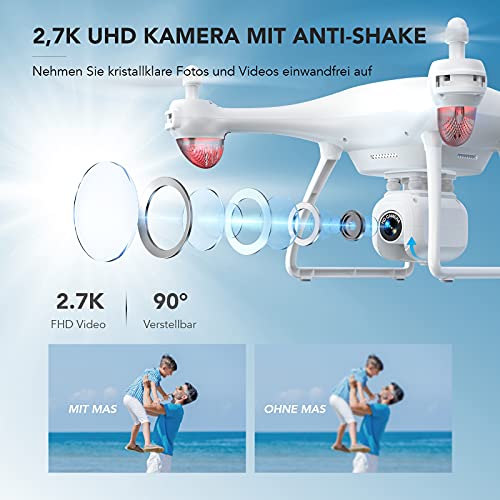 Unlike most drones under 200 dollars, Sansisco has not given the P5 a Full HD, but a 2.7K camera. This takes photos and videos in 2048 x 1152p. The camera's field of view (FOV) is 120°, which makes it very wide-angled.
Besides the high-resolution camera, we also like the fact that the camera's angle can be adjusted vertically by up to 90° so that you can capture different perspectives.
Your photos and videos are stored on a memory card, which is, however, not included.
The quality of the recordings is relatively good, even if videos do not look quite as smooth as you are used to from much more expensive drones with cameras. This is mainly due to the lack of a gimbal for image stabilization. Although the Sansisco P5 has four small vibration dampers between the drone chassis and the camera, they do not quite manage to stabilize the recordings completely.
One-touch rollovers & simplified controls
Since the Sansisco P5 doesn't have a GPS module, there is unfortunately no Follow Me or ActiveTrack mode to choose from, but the drone is capable of some other interesting flight maneuvers.
In Flight Path mode, for example, you can draw a flight path in the app, which is then flown independently by the drone.
In 3D Flip mode, you can perform flips at the touch of a button and have the drone perform 360° rolls in all directions.
Headless mode, when activated, makes controlling the quadcopter even easier. While in normal flight mode you always have to pay attention to which direction the front of the drone is pointing instantly when you want to perform a direction change, this is not necessary in headless mode.
As soon as you move the control stick on the controller to the left, the Sansisco P5 will also fly to the left – so there is no need to rethink due to the orientation in this mode. For control commands in other directions it is of course the same.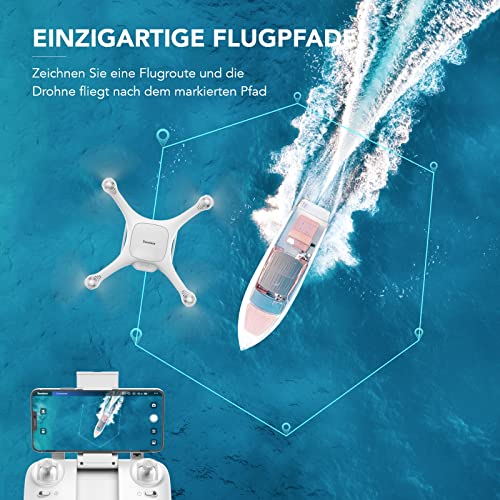 Even though the headless mode can be a great help, especially in the beginning, you should not fly in this mode for too long, as many drones do not have this mode. Therefore, learn in any case also the normal control, so as to be prepared for other drones.
Scope of delivery
1 x Sansisco P5 drone
2 x 1500mAh battery for drone
1 x controller (3xAAA batteries not inside)
2 x pairs of spare propellers, 4x propeller guards
1 x USB charging cable for batteries
1 x carrying bag
1 x screwdriver
1 x user manual
Conclusion
The Sansisco P5 is a well-equipped camera drone for beginners looking for a solid first drone. The high-resolution 2.7K camera takes good pictures, which are additionally stabilized by a built-in vibration damper.
The controls are precise and easy to learn. Thanks to features like one-touch takeoff and landing, altitude hold, and headless mode, even beginners won't face any problems and you can start flying and having fun right away.
The flight time is excellent up to 20 minutes – per battery. Since the drone comes with two batteries, a total of up to 40 minutes of flight is possible.
All in all, the Sansisco P5 is an excellent drone for beginners at a fair price. We can therefore highly recommend the multicopter and wish you a lot of fun flying it!