Syma X8W Multicopter
The Syma X8W multicopter is here! The X8W is a direct successor of the ever-popular Syma X5C and an excellent choice for beginners as well as advanced pilots. For a price of about $100, you get not only the drone including battery and remote control, but also an HD camera, which allows live transmission of the camera image (FPV) to smartphones or tablets.
Adjustable camera
A big advantage of the X8W over the X5C is the ability to adjust the tilt angle of the camera. While the fixed camera of the Syma X5C often only filmed the ground under the drone during fast flights, the camera of the Syma X8W always keeps an overview thanks to the adjustable tilt angle. Although it is not possible to adjust the tilt during flight, you can quickly find the right setting with a bit of trial and error.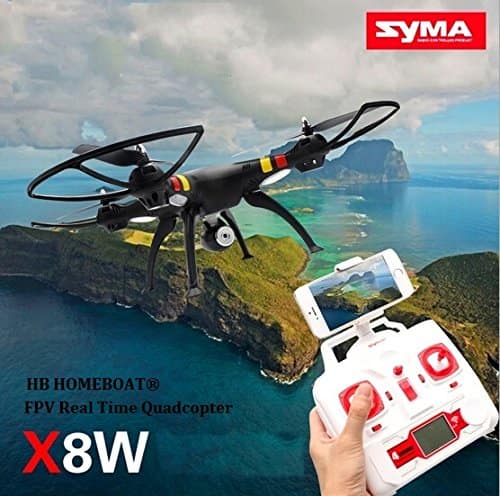 Live image to smartphone
The image transmission of the 2 megapixel camera of the X8W transmits the camera image of the drone directly to a smartphone or tablet (Android & iOS) and lets you feel real pilot feeling. Within the specified flight time of 8-10 minutes, the Syma X8W can be controlled within a radius of about 110 yards (100 meters).
In calm weather conditions, the Syma X8W can be maneuvered excellently thanks to a 6-axis gyro, and if something does go wrong, the built-in rotor guard protects the propellers in case of minor collisions and crashes. To simplify the control of the drone, Syma has given the X8W two different flight modes.
In the beginner mode, the drone with camera responds well to control commands and turns its own stable rounds. Once you have gained some experience with the controls, you can switch to advanced mode and exploit the full potential of the X8W. In this mode, the drone reacts much more directly and quickly. In addition to these features, the Syma also offers other extras such as 3D Flips or the "Ninja Throw Launch".
A special highlight of the X8W is the so-called Headless flight. Here, the drone can be controlled in an absolute directional mode without knowing the actual flight attitude. This function together with the robustness and the attractive price make the Syma X8W the ideal entry-level drone.
Features of the Syma X8W
Dimensions: 48 x 48 x 20 cm
Weight: 550 g
Flight time: 8-10 minutes
Range: approx. 100 meters
Gyro: 6-axis
Camera: 2 MP
FPV image transmission to smartphone/tablet
Scope Of Delivery
Syma X8W
Remote control (no batteries included)
2000 mAh LiPo battery
Rotor guard
Charger