The UDI U818A belongs to the entry-level and advanced drones and convinces with an appealing price-performance ratio. The weight-optimized design of the just 100 g light copter makes the UDI U818A a maneuverable and very agile flying object. It is suitable for use indoors as well as outdoors and offers a flight time of about 8 – 12 minutes. The drone is charged with the help of the included charger.
different flight modes and rotor protection
The UDI U818A has two different flight modes, allowing beginners and advanced users to perfectly control the drone according to their own skills. The mode set in each case is displayed on the remote control. Precise flight maneuvers are no longer a problem due to the solid mechanics in combination with the powerful motor technology and can be performed easily.
The built-in prop guards of the UDI U818A protect the four rotors should the copter ever collide with an obstacle and prevents you from having to immediately provide for a replacement. In the event that something should break, the quadcopter comes with four spare rotor blades that can be easily replaced if necessary.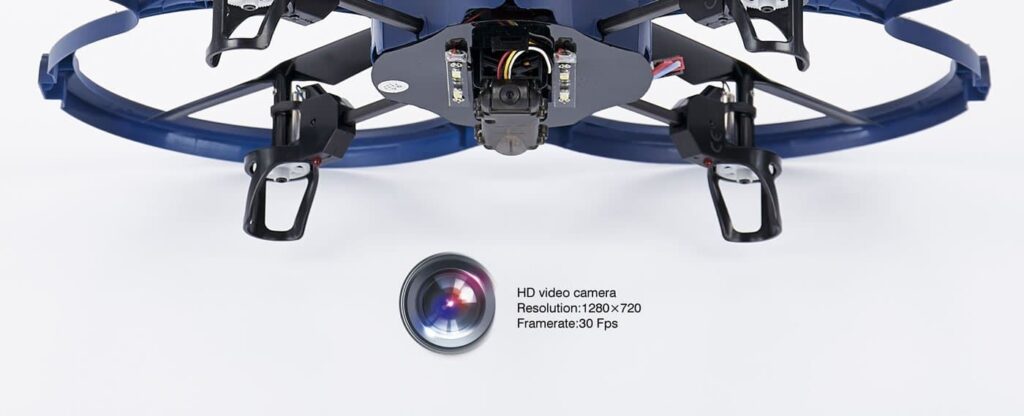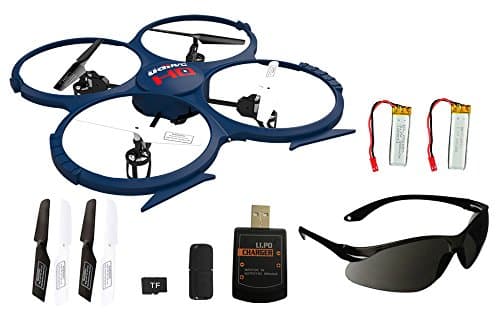 When you buy this drone, you get a built-in 3D Flip function that allows you to perform spectacular flips. With the built-in 1.2 MP camera, you can make great recordings of your tricks. The necessary stability of the UDI U818A is ensured by a 6-axis gyroscope. In addition to the tilt stabilization of all three axes, acceleration sensors are also used to keep the drone stable in the air.
To extend the flight time of the quadcopter, a spare battery is included with the product. This way, you can immediately replace an empty battery with a full one and thus double the flight time of your drone. Other highlights of the UDI U818A include the included AGETECH sunglasses and an already inserted 2 GB memory card.
The UDI U818A is delivered as a Ready-to-Fly (RTF) version and you only need to buy four 1.5 V AA batteries for the remote control to start your first flight attempts.
Technical data
6-axis gyro
Camera: 1.2 MP
Remote control: 2,4 GHz, 4 channels
Format 4:3
Flight time 8-12 minutes per battery
Battery: 3.7 V / 500 mAh
Dimensions: 33.5 x 33.5 x 6 cm
Scope of delivery
Drone with camera
2.4 GHz remote control
2 batteries: 1 x 3.7 V/500 mAh & 1 x 600 mAh
microSD memory card with 2 GB (already inserted)
AGETECH sunglasses CE certified
Charger
USB adapter
Spare rotors: 4 pieces
Instruction manual