FPV goggles – information and buying guide
With FPV goggles, you can see the live image from the drone camera right in front of your eyes and control your drone from a first-person view.
If you want to buy a FPV racing drone, FPV video goggles are part of the basic equipment. However, many normal camera drones can also be controlled by drone goggles.
We show you what to look for when buying FPV goggles, explain the differences between the various models and present the best FPV goggles for beginners and professionals.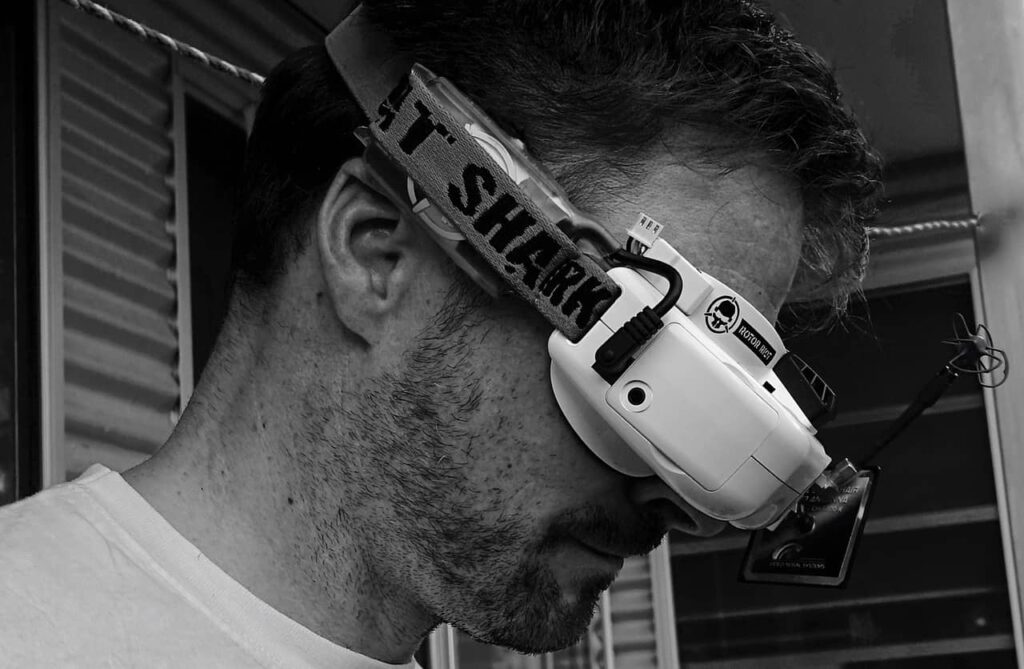 What types of FPV goggles are there?
First of all, we would like to briefly discuss the difference between VR glasses and FPV glasses. While VR or 3D goggles like the Oculus Rift show the displayed image moving along with your head when you move, this is usually not the case with FPV goggles. FPV goggles show the fixed image of the drone camera even if you move your head.
Models with head tracking are an exception here. These models, in conjunction with a gimbal system on the drone, allow the camera to be controlled by head movement. However, they are generally not used in drone racing, since you actually always want to look in the direction of flight.
Single-screen (boxed glasses) vs. dual-screen
The two basic types of FPV glasses are single-screen glasses (also called boxed glasses) and dual-screen glasses. Boxed glasses have a single large screen and are larger and mostly cheaper than the more common dual screen versions.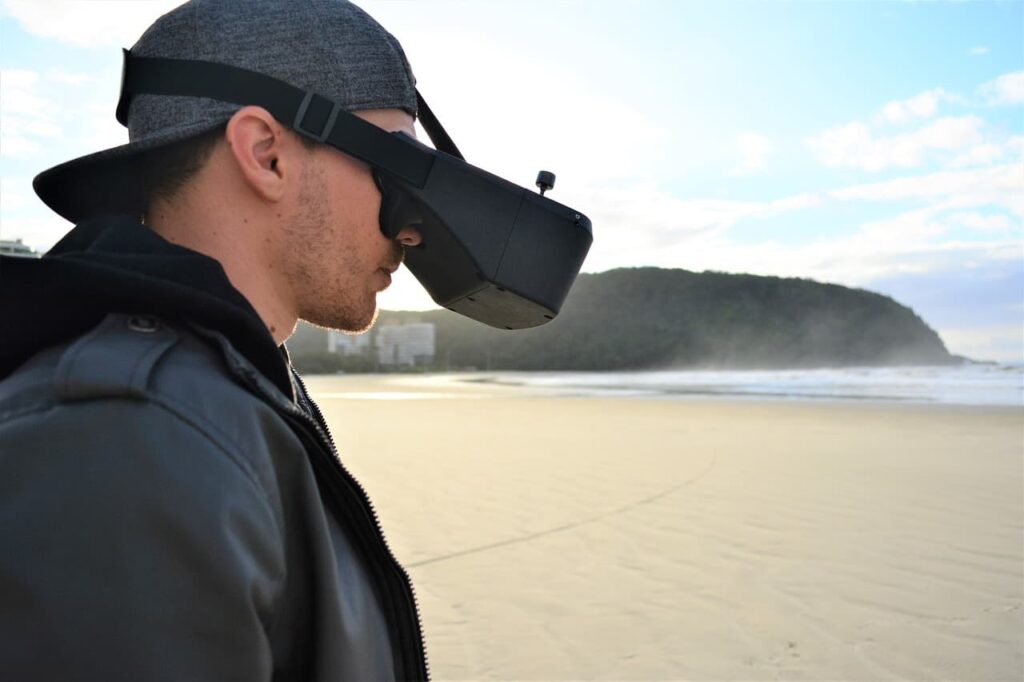 The advantages of boxed glasses are, on the one hand, the somewhat lower price and, on the other hand, the possibility to use the glasses as a screen as well. In addition, they are almost always already equipped with a suitable receiver, which sometimes has to be purchased separately for dual-screen glasses.
Despite these advantages, dual-screen glasses have become widely accepted. On the one hand, this is due to their smaller size as well as the associated lower weight. In addition, the glasses can also be used to play 3D movies thanks to the two screens.
On the other hand, they offer advantages for people with visual impairments, as the two individual screens can be adjusted separately. Corrective lenses (diopter inserts) for different visual acuities per eye can also be used in many models.
Some new glasses, such as the Fat Shark HDO 2 (link to Amazon*), even have an integrated diopter correction. In the aforementioned model, this is between +2 and +6.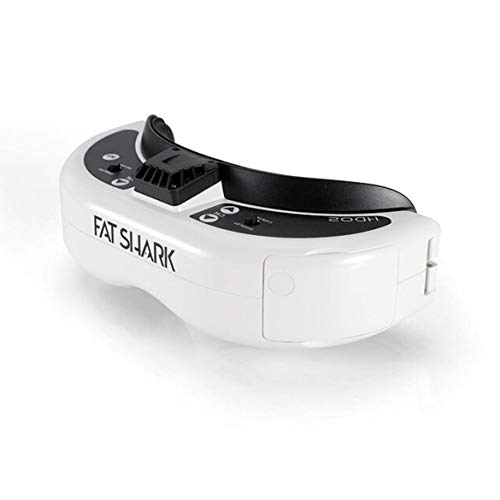 Analog or digital FPV goggles?
Until recently, the image signal between the drone and the FPV goggles was transmitted exclusively in analog. Even today, analog systems are still clearly in the majority, although digital systems seem to be gaining more and more ground.
The latency (time delay) of the video stream is enormously important when controlling a racing drone in order to always be able to react in time at the high speeds. Analog signal transmission has extremely short latencies and therefore delivers images almost in real time. Until recently, it was not possible to achieve similarly low latencies with digital signal transmission.
In the meantime, however, there are two digital FPV transmission systems with the DJI FPV system (link to Amazon*) and Shark Byte from Fat Shark (link to Amazon*), which have comparably low latencies. In addition, analog adapters are now available for the DJI Goggles.
The biggest advantage of digital FPV systems is certainly the quality of the transmitted live image. While image noise is simply part of the analog signal, it is almost non-existent with digital transmission. In addition, the digital systems transmit the image in HD resolutions at 60 or even 120 fps.
For a long time, a major obstacle on the way to digital image transmission was the fact that if the signal was weak, the image simply froze, whereas analog systems "merely" caused stronger image noise in such a case. Although strong noise is certainly a hindrance when controlling the drone, freezing the image is far more dangerous. Current digital FPV systems have now overcome this hurdle and are therefore the future of FPV flying according to many.
Technical details and features
Whether you choose an analog or digital FPV system, you should also look for a few other features when choosing the right FPV goggles.
Many FPV goggles have an integrated DVR (Digital Video Recorder). This means that live videos can be recorded directly in the goggles on an SD card. Especially if the drone crashes in cluttered terrain, such a system can be extremely beneficial in finding the drone again. In addition, a DVR in the drone goggles offers the possibility to view one's own flight videos again afterwards.
For the longest possible transmission range and a stable signal, you should opt for FPV goggles with a diversity receiver or make sure that such a receiver can at least be retrofitted. Diversity receivers have two antennas for receiving the same signal, which allows a certain redundancy in signal transmission. This also improves the range.
To prevent the goggles from fogging up from the inside, it is also advisable to opt for a model with integrated ventilation. Another practical feature in terms of user-friendliness is a front camera in the FPV goggles. Without having to remove the goggles, you can thus see the world in front of you at the touch of a button.
To ensure the most immersive flying experience possible, FPV goggles should have a large enough FOV (Field of View). Most goggles have a FOV between 28 and 55°. Values between 35 and 50° are preferred by many pilots.
So that you can adjust the focus of the goggles individually to your eyes, most models have an adjustment option. The interpupillary distance (IPD) of most FPV goggles can be adjusted between 54 and 74 mm.
For the sharpest and highest-contrast display possible, current top-of-the-range goggles rely on OLED displays, which are fundamentally superior to conventional TFT screens. Another quality factor for the image display is of course the maximum possible resolution of the FPV glasses. Here, the values vary between 640 x 480 pixels and 1920 x 1080 pixels, depending on the manufacturer and model.
As for the image format, both 4:3 and 16:9 are widely used. A clear recommendation cannot be made on this point, even though many pilots prefer the 4:3 ratio.
To use an FPV simulator on FPV goggles or to connect them to a laptop or PC, almost all newer models have an HDMI or Micro HDMI port.
Where should I buy my FPV goggles?
The largest selection of FPV video goggles is currently available at Banggood. The large online store is a well-known provider of FPV equipment and also carries various other accessories for FPV racing.
Amazon also carries FPV goggles from various manufacturers, but unfortunately not all models are always available there. If you want to buy a pair of DJI FPV goggles, it is best to do so directly in the DJI store.
Popular manufacturer
Fat Shark
Skyzone
DJI
Eachine
Toppac
TX
Aomway
Crazepony
Makerfire
The current best FPV glasses
DJI Goggles V2: Currently only available in the DJI FPV combo (link to Amazon*).
Fat Shark HDO 2: Price currently approx. 440 to 600 dollars (link to Amazon*).
Orqa FPV.One: Price currently approx. 600 dollars.
SkyZone Sky04X: Price currently approx. 460 dollars (link to Amazon*).
Fat Shark HDO: Currently only available second hand.
FPV goggles compatible with Fat Shark Shark Byte
Fat Shark HDO 2: Price currently approx. 440 to 600 dollars (link to Amazon*) .
Orqa FPV.One: Price currently approx. 600 dollars.
Fat Shark Attitude V6: Price currently approx. 300 to 430 dollars (link to Amazon*).
SkyZone Sky04X: Price currently approx. 460 dollars.
Eachine EV300O: Price currently approx. 411 dollars.
Cheap goggles for beginners
Eachine EV200D: Price currently approx. 245 dollars.
SkyZone Sky02C: Price currently approx. 235 dollars (link to Amazon*).
Eachine EV800D: Price currently approx. 75 to 83 dollars (link to Amazon*).
Fat Shark Recon: Currently only available used (link to Amazon*).
Eachine EV100: Price currently approx. 95 dollars.
The best FPV glasses for eyeglass wearers
FXT Viper V2: Price currently about 200 dollars.
With these FOV goggles, you can comfortably keep your glasses on because the screen sits a bit away from your head.
The best boxed goggles
Don't forget the spotter!
Please note that in many countries FPV flights are only allowed if the drone is simultaneously kept in view by another person (the spotter) with the naked eyes. This is to ensure that the spotter can warn the pilot in time in case of possible dangers.